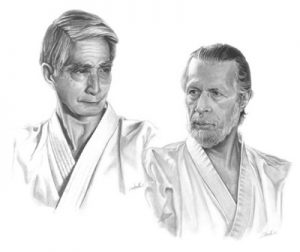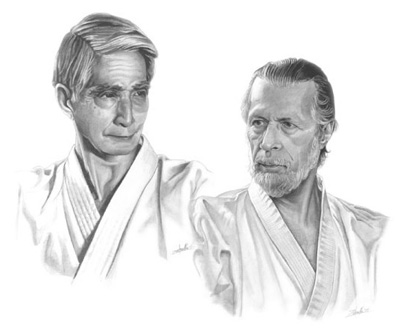 Traditional Karate North Central Region Newsletter 
1) 2018 WTKF Championships – St. John's Newfoundland Canada – Oct 22-28 – RESULTS
The 2018 World Traditional Karate-Do Federation (WTKF) World Championships brought together the best WTKF karatekas and judges from around the world.  The North Central Region (NCR) had a sizeable group of athletes and judges representing USA.  In addition to competing or judging, everyone enjoyed sightseeing and the wonderful cuisine of St. John's, Newfoundland.  During the championships, athletes and judges developed new skills and enhanced their knowledge. They also developed a strong bond through new found or renewed relationships with fellow athletes and judges worldwide to keep the traditional karate message moving onward and upward. 
The following local NCR athletes placed at the 2018 World Championships:
Women's team kumite 2nd place (Cassie Le, Meghan Wilson; and Soolmoz and Setareh Abooali)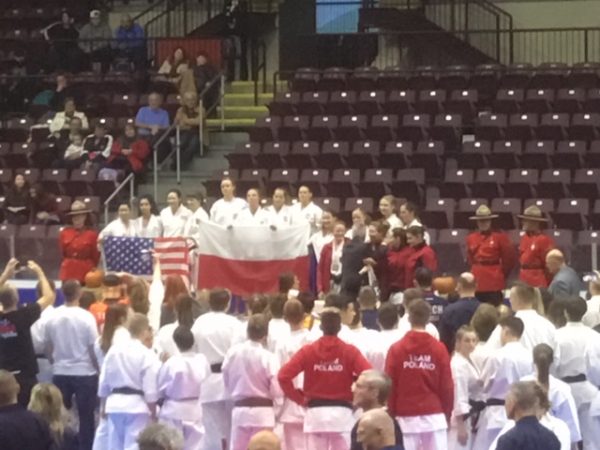 Men's team kumite (Jeffrey Davila and Tom Hauwiller; and Ethan Nyberg) tied for 3rd place.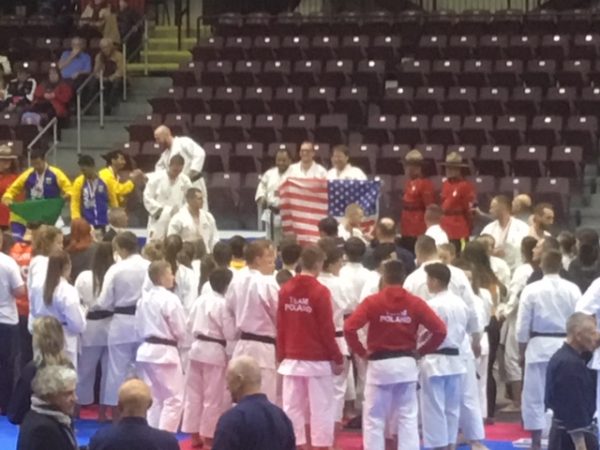 Also, Soolmaz Abooali (Mid-Atlantic Region) placed in women's kata, fuku-go, kata, kumite, and mixed enbu.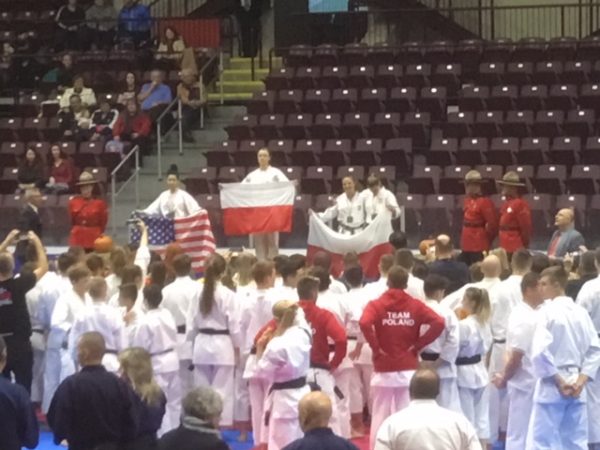 Once the final 2018 WTKF World Championships results are available, we will publish the updated results. 
Photos and videos regarding the 2018 WTKF World Championships can be found on the NCR Facebook site. Click here.
Roger TV still has some of the tournament videos up on their website for a limited time. Click here to see the videos.
USA Athletes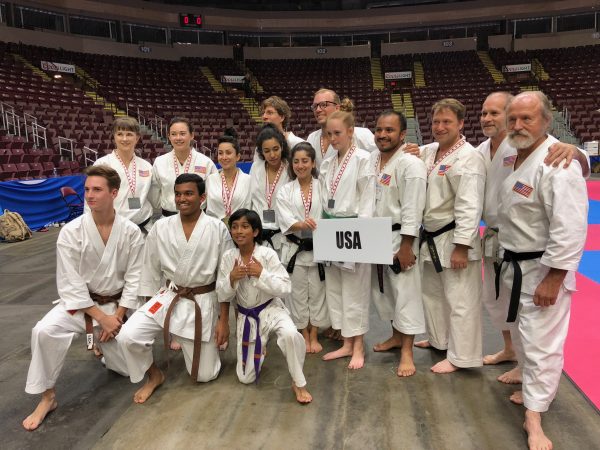 USA Athletes and Judges
2) NCR kumite seminar and dan exam – Saturday noon Nov 17, 2018, Mpls dojo – click here for flyer
Reminder: the NCR kumite seminar is less than two weeks away – Sat Nov 17 noon
Instructors: Al Kotula and Michael Fusaro
Subject: Best attack techniques, best defense techniques and setting up the attack.
Benefits: Improve your kumite strategies for your next test, elevate your free sparring techniques, develop your kumite strategy for tournament fighting.
Cost $20/individual; $40/family
Seminar time Noon-2:00pm.
Dan exam will start around 2:30pm. Only shodan, nidan, and sandan examinations will be given.
3) NCR board meeting – Saturday 3:15pm Nov 17, 2018
After the Nov 17 NCR kumite seminar and dan exam, we will hold the annual NCR board meeting to review this year's results and plan for the 2019 budget and events.  All NCR board members and club directors must attend.
4) WTKF General Assembly update – October 25, 2018
The World Traditional Karate Federation (WTKF) held its annual general assemble meeting on October 25, 2018 in St. John's, Newfoundland as part of the WTKF World Championships event. Some highlights from the meeting
It was announced that Italy will be joining the WTKF organization with ~10,000 members
2019 Pan-AM games is tentatively planned for Mexico city. They are waiting for government support/approval. Brazil is the alternate site
2019 European championships will be held in Odintsovo, Russia (20km from Moscow, Russia) www.wtkf-russia.ru
The Russian organization pursued an educational route to help promote traditional karate within Russia rather than their sport authority which is more difficult to get into. Russia is proposing a three level kumite for kids as an avenue towards jyu kumite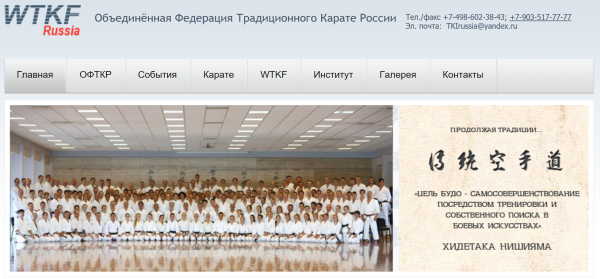 WTKF has been actively working with the Australian karate group by holding WTKF seminars in their country in the past with plans for more seminars in the near future
The 2020 WTKF World Championships is being planned for Australia with Okinawa as the alternate site
WTKF budget continues to have strong capital foundation to help continue their annual operations and future endeavors
WTKF country membership dues will remain the same
WTKF was approached by Volante Olive Oil company from Spain as a potential sponsor to help promote the WTKF traditional karate message worldwide
WTKF continues to press the International Olympic Committee regarding the differences between traditional karate verses sports karate
The new WTKF tournament rule book is another year-plus out before being published. Feedback and tweaks to the new rule book continue to come in which will help evolve how our future tournaments will be run.
5) Future dan examination dates
The following are tentative dan examination dates/location. Check with your club's sensei as dates/times may change at the last minute.
2018 Nov 17 Mpls dojo; as part of the 2018 NCR Nov kumite seminar; Shodan-Sandan level dan examinations only; conducted by local NCR senseis
2019 March/April Mpls dojo; part of the 2019 AAKF 

spring

seminar; all dan ranks; conducted by AAKF technical committee
2019 July LA, Calif.; part of the 2019 AAKF Nationals seminar camp; all dan ranks; conducted by AAKF technical committee
Students testing must read the following documents for specific dan test requirements and eligibility:
6) FYI – 36th Madison Traditional Karate tournament – Nov 10, 2018 – Madison, WI
The Madison Japanese Karate Club invites you to their annual Traditional Karate Tournament, which will take place on November 10th, 2018. Adult and youth participants of all ranks are welcome!
2018 NCR Upcoming Calendar of Events
Go to the NCR website for more details as they become available.
2018 NCR Nov kumite seminar – Nov 17 noon. Mpls dojo; Shodan-Sandan level dan exam. click here for more detail
2019 NCR tentative Calendar of Events
2019 AAKF Spring seminar –  March/April (tentative) – Mpls dojo including dan examination all ranks, examiner examination, etc. includes dan exam
2019 AAKF Nationals – July 16-20 – LA, California, includes dan exams. Hilton DoubleTree LA-Rosemead, CA
2019 Pan-Am tournament – Mexico City (tentative)
FYI – 2020 WTKF World Championships – Australia (tentative)
For the latest NCR events and newsletter updates,  click here. For Mpls dojo events, click here. For St. Paul dojo events, click here.
For past Traditional Karate North Central Region newsletters, click here.
Art Wong – Traditional Karate North Central Region Director