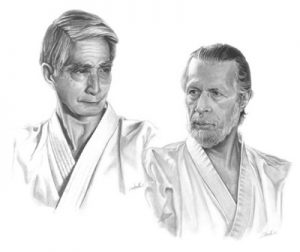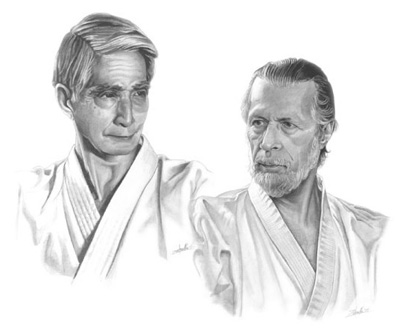 Traditional Karate North Central Region Newsletter 
1) Minneapolis Dojo News – 
Local Training: Albert Cheah Visit Results – November 5, 2019
The MKA dojo was visited by Sensei Albert Cheah, 6th Dan, from the Orange County, California dojo. He taught a group of a dozen karateka Tuesday evening November 5th. The attached photo shows Sensei Cheah assisting a student with pressure to hip area to create added stability in her Empi kata. By creating more pressure to the floor for stability, the next move of compressing the arm strike to the left open hand becomes easier to execute.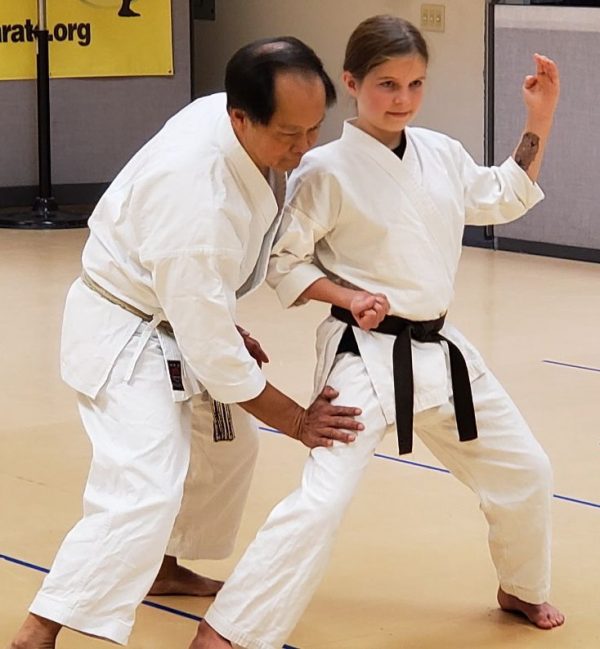 Pan Am International Training: Mexico City, October 22-23, 2019
Sensei Salas emphasis on stomach and leg connection. Sensei Eduardo Salas , 9th Dan, Peru taught this concept of energy development in the legs and stomach area to create a stronger base.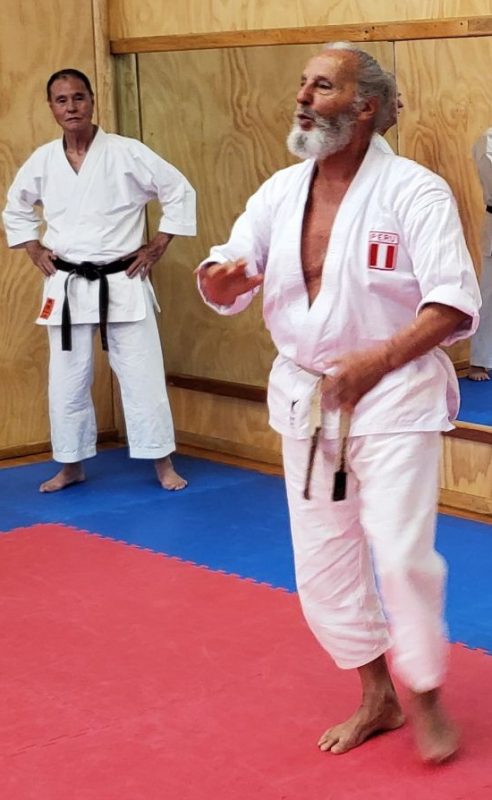 Sensei Tabassi, USA 7th Dan, shown demonstrating same principle.
 Student is in a side stance doing basic punching chest level center.
Another student stands behind him with a vertical fist slightly pushing forward between the shoulder blades.
The puncher will be pushed forward slightly and must use leg muscles to prevent going off balance (puncher must not develop a constant pressure develop a constant pressure lean).
Assisting student slowly increases pressure to a few pounds to increase leg development and stomach connection.
Repeat by pressing a vertical fist to upper stomach for women or chest for men. Puncher punches face level. Assisting student increases pressure to a few pounds while puncher uses stomach and legs to develop a constant pressure and hold position while punching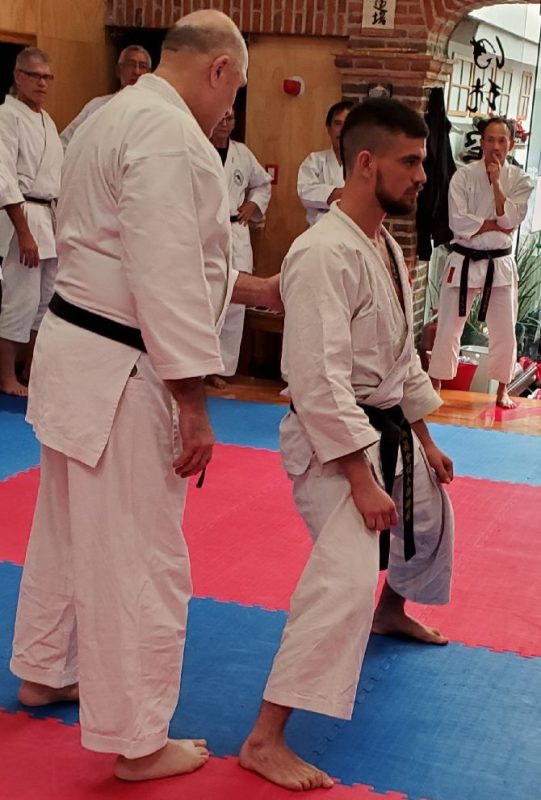 2) Madison, WI Shiai Results – November 16, 2019  
The annual Madison, WI traditional karate tournament was held at the Robert M. La Follette High School gymnasium, 702 Pflaum Road, Madison, WI 53716.  The shiai gave karatekas  the opportunity to hone and develop your kata and kumite skills, meet new friends and renew old acquaintances, and gauge their level of development for your next test. For judges, they sharpened their eyes and strengthen their understanding of kata and kumite tournament rules and procedures.
Click here for photos from the shiai. (Thank you to the Madison Japanese karate club for the 768 photos on your Facebook site:
Photos from our 2019 tournament. Thank you athletes for your passionate participation, and BIG thanks to judges and volunteers for your generous time!
Finally, thank you to Jesse Allhands for taking photographs! If you desire higher resolution copies of certain photos (for a small suggested donation), please send us a private message.
If you took videos or photos from the tournament and want them to be featured on our page, feel free to post them as well. See you next year!)
Click here for videos from the shiai.
3) AAKF Annual Membership Renewal – March 1, 2020 Deadline
Your individual AAKF membership expires on March 1, 2020. If you renew your current membership before that date, the cost is only $25. After that, AAKF membership renewal is $35.  Click here to read about the benefits about being part of the AAKF and WTKF organizations.
See your club's sensei regarding who to make the check out to. Fill out the registration form, click here for the AAKF individual registration form.  Drop off your payment/form to your club's sensei who will then mail to the AAKF organization.
4) 2019 NCR Board of Director meeting December 13, 2019 
The annual Traditional Karate North Central Region (NCR) will meet on December 13, 2019 at the St. Paul dojo.  The meeting will review this year's results and start planning for our 2020 activities. See your club's Sensei on regarding the meeting details.
5) Future Dan Examination Dates
The following are tentative dan examination dates/location. Check with your club's sensei for eligibility as well as dates/times that may change at the last minute.
AAKF 2020 Spring seminar – Madison, WI. – more details to follow on date/time of the dan exam.
AAKF Nationals – Dallas, TX. June 23-27, 2020 – 

more details to follow on date/time of the dan exam.

NCR  Dan exam – Fall 2020 – TBD
If you are consider testing for a dan rank in 2020, you should be preparing for your exam as soon as possible and getting feedback from you club's sensei and sempais.  It takes at least 6+ months of constant training both mentally and physically to prepare for a dan exam. For yondan and above dan tests, it will take longer to prepare since you must write a thesis, present your paper,  and do a kata with bunkai explanation.
Students testing must read the following documents for specific dan test requirements and eligibility:
Shodan-Nidan– NCR Testing guidelines handbook – click here for more information
AAKF Technical Qualification Guide – Rank Promotion – requirements for all dan ranks – click here for more information
For our region, the dan test cost is $100 times the dan rank you are testing for, e.g., $100 x 2nd dan (nidan) test = $200.00.
6) Dan Rank Registration With AAKF and WTKF Organizations
Once you passed your dan examination, you must register your dan rank with both the AAKF and WTKF organizations. Cost is $150.00 ($50-AAKF/$100-WTKF). Make check payable to AAKF.
Complete both forms: Click here AAKF Dan reg form. Click here WTKF-APPLICATION-FORM.
Mail your check and forms to: MKA – St. Paul Dojo, E. 7th St., St. Paul, MN 55106.
2020 NCR Upcoming Calendar of Events
Go to the NCR website News and Events for more details as they become available
NCR 2020 Winter shiai – more details to follow.
AAKF 2020 Spring Seminar, Madison, WI – more details to follow.
AAKF 2020 Nationals – Dallas, TX – June 23-27, 2020 – more details to follow
WTKF  2020 World Championships – Sept 22-26, 2020, Joao Pessoa, Paraiba, Brazill – click here for preliminary information.
For More Information and Links
For the latest NCR events and newsletter updates,  click here. For Mpls dojo events, click here. For St. Paul dojo events, click here.
For the NCR Facebook site, click here.
For the WTKF website, click here, WTKF Facebook click here
To subscribe to the NCR newsletter, go to the bottom of the NCR archive website and click "Subscribe to our newsletter".
For past Traditional Karate North Central Region newsletters, click here.
Art Wong – Traditional Karate North Central Region Director, Godan