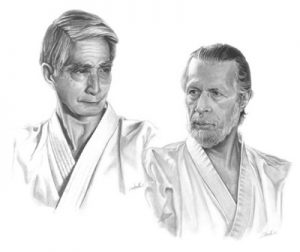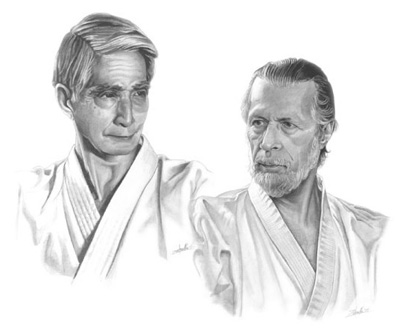 Traditional Karate North Central Region Newsletter 
1) Passing of a Great Sensei –

Sensei Robert L. Fusaro 9/7/1933 – 6/29/2019 – UPDATE
NEW –  Sensei Fusaro awarded 10th dan – In recognition of his lifetime achievements, Sensei Fusaro is awarded 10th Dan posthumously by the American Amateur Karate Federation (AAKF) and the World Traditional Karate-Do Federation (WTKF). Click here to read more.
New – Sept 7, 2019 celebration of life memorial service – work has started on the celebration planning. The celebration is on his birthday.
New – 19 Questions with Sensei Fusaro in 2016 – click here
New – A GoFundMe has been set up on behalf of Gloria Fusaro.  Click here to donate towards the memorial fundraiser.  Update: we reached our GoFundMe goal of $10,000.  Let's see if we can go way beyond our goal by 50% more.
We are deeply saddened to report the passing of Sensei Robert L. Fusaro 9th Dan  on Saturday, June 29, 2019. He will be truly missed by all of us.  He has trained thousands of students in the art of Shotokan karate in the Midwest, across the US and worldwide. He developed and trained hundreds of black belts over his lifetime. Many of them becoming national and international competitors and champions, and/or competition judges; sensei of their own club; officers of the Traditional Karate North Central Region organization; and/or senior members of their club that helped elevate other students to become black belts as well.
Read a brief history about Sensei Fusaro written in 1997. Click here
See a video interview with Sensei Fusaro that was aired on January 2018 which may be one of Sensei's last interviews. Click here
As more detail become available regarding his memorial service date/time, etc., we will email you a NCR newsletter update with the detail.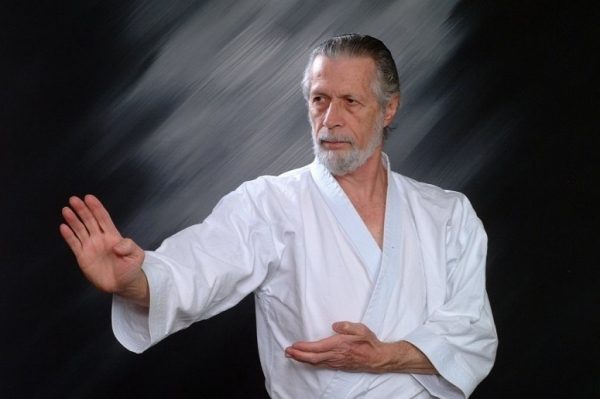 2) 2019 AAKF Nationals – July 16-21-

UPDATE 
Good luck to the Traditional Karate North Central Region (NCR) athletes representing our region –
Al Kotula, Dennis Olson, Kara Winter, and Clara Winter (youth)
The following are the NCR judges that will be at the 2019 Nationals:
 Trung Le, Laurie Elliott, Michael Ching, and Mark Abeln.
We will post photos and videos of the 2019 AAKF Nationals on the NCR Facebook website next month.
The 2019 AAKF National Championship is scheduled for July 16-20 in Monterey Park, CA. The Nationals and International camp will be both be held at the George Elder Gym 1950 Wilcox Ave Monterey Park.
Hotel accommodations will be at the  Hilton DoubleTree LA-Rosemead, CA. The hotel is 3 miles away from the George Elder gym – 1950 Wilcox Ave., Monterey Park, CA 91755
Click here for more information posted on the AAKF Facebook site.
3) Northfield club – Guest instructor from Italy
Sensei Diego Mainardi from Italy is a friend of Tom Meagher, sensei at the Northfield dojo. Diego was in Owatonna, MN in June to work with companies in Owatonna. Diego recently earned his Yondan under Sensei Shirai and he has a small club in Parma Ital. Read more.
Diego taught an interesting bunkai from Shirai Sensei. Shirai Sensei is 83 and still teaches. Bunkai is for kata understanding first and self defense of less importance.
Northfield club and Diego Sensei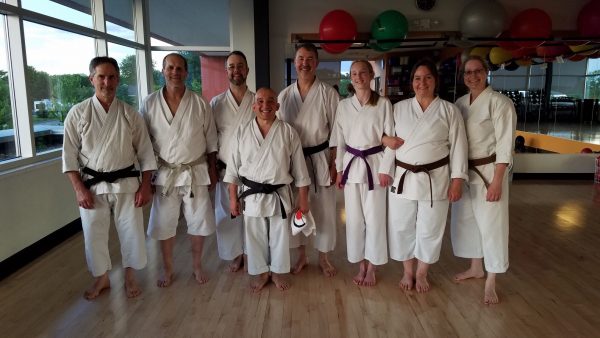 4) XIX Pan American Championship Karate-Do – Oct 21-26 – Mexico City
If you are selected by the AAKF organization to represent the US at this year's 2019 Pan American championship, the following links will help you prepare for the 2019 Pan-Am championship:
Click here for the Poster
Click here for the General Information (dates, times, location, hotel, events, tours, etc.)
Click here for registration form and medical form
5) Future dan examination dates
The following are tentative dan examination dates/location. Check with your club's sensei as dates/times may change at the last minute.
2019 July LA, Calif.; part of the 2019 AAKF Nationals seminar camp; all dan ranks; conducted by AAKF technical committee
Students testing must read the following documents for specific dan test requirements and eligibility:
Shodan-Sandan – NCR Testing guidelines handbook – click here for more information
AAKF Technical Qualification Guide – Rank Promotion – requirements for all dan ranks – click here for more information
For our region, the dan test cost is $100 x dan rank you are testing for, e.g., $100 x 2nd dan (nidan) test = $200.00.
6) Dan rank registration with AAKF and WTKF organizations
Once you passed your dan examination, you must registered your dan rank with both the AAKF and WTKF organizations. Cost is $150.00 ($50-AAKF/$100-WTKF). Make check payable to AAKF.
Click here for the AAKF Dan reg form. Click here for the WTKF-APPLICATION-FORM.
Mail your check and forms to: MKA – St. Paul dojo, 7th St. E. St. Paul, MN 55106.
2019 NCR Upcoming Calendar of Events
Go to the NCR website News and Events for more details as they become available
2019 Fall seminar – Sept 21, Mpls dojo
2019 TBD guest instructor seminar – Nov 2019 Mpls dojo
2019 Pan-Amercan championship- Oct 21-26, 2019, Mexico City – click here for the poster and information
FYI – 2020 WTKF World Championships – Fall 2020, Australia (tentative)
For more information and links
For the latest NCR events and newsletter updates,  click here. For Mpls dojo events, click here. For St. Paul dojo events, click here.
For the NCR Facebook website, click here.
To subscribe to the NCR newsletter, go to the bottom of the NCR archive website and click "Subscribe to our newsletter".
For past Traditional Karate North Central Region newsletters, click here.
Art Wong – Traditional Karate North Central Region Director