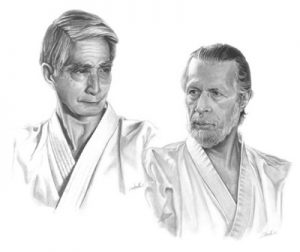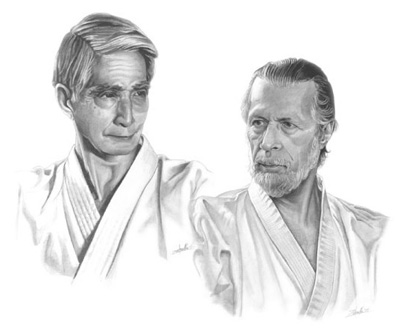 Traditional Karate North Central Region Newsletter 
Online Training Goes Worldwide –
Update – April 21, 2020
The first WTKF online training session was held noon Monday April 20, 2022. The 45 minute session went very well and was conducted by Sensei Pavel Chernousov from Russia. The session was conducted in English with a little Russian sprinkled in and Japanese terms. There were about 198 people online watching and participating in the Zoom video session.  Sensei discussed and demonstrated finishing blow (todome); mechanics of diaphragm breathing (contraction); Kinetic chain, "whip" (muchimi). Several students from our region participated in the online session and followed sensei's demonstration drills. The video conference call was very clear with very little technical issues, e.g., no lag time.
As a reminder, make sure you sign up for the sessions by registering online to receive the email containing the Zoom link for the next session on Wednesday. Look for the sign up form that will on the foreground image for the next online training session, for example, last Monday's sign up look like this
An email will be sent to you similar to the one below containing the Zoom video link. They will email you a reminder regarding that day's scheduled session. The session will start at the posted timezone for your area, for NCR that is noon time, and will last for 45 minutes.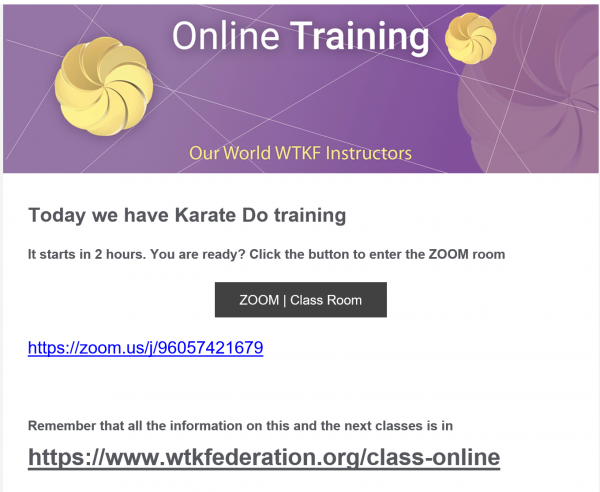 As soon as I find out if the Zoom training sessions are recorded and posted, I will communicate the hyperlink address.
—–
The World Traditional Karate-do Federation (WTKF)  is hosting a series of worldwide online karate classes. The online sessions will be taught by WTKF world champions and/or renowned WTKF Senseis. Many of us who have competed at the world level and/or judged at the world level have trained with these senseis.  This is your opportunity to also train and learn from these renowned senseis.
Go to the WTKF online training schedule website https://www.wtkfederation.org/online to get more details, theme of the day, links, and timeline the classes will be online.
According to the WTKF website, the sessions will a
lways be
at the same hour
depending on your time zone. The WTKF website will have a count down meter that will then display the
Zoom
link for that day's session. Make sure you have the
Zoom application
loaded on your PC, mobile phone, and/or tablet.
Here is a list of the time zones when the online class will be held
12 AM MEXICO CITY (for NCR region)
Online Practice dates and the sensei conducting the class – Note – 
First Class will be this coming Monday, April 20, 2020. 
Pavel Chernousov, Russia

 

| Monday 20 April
Narek Iskandaryan, Armenia 

| Wed 22 April
Cristián Hidalgo, Chile 

| Friday 24 April
Paweł Janusz,

 

Poland 

| Monday 27 April
Alexsandro Jobson,

 

Brazil 

| Wed 29 April
Rodrigo Lucio de Souza,

 

UAE 

| Friday 1 May
Regional Online Training
Some of the local dojos in our region have implemented online training classes via the Internet. Some have implemented live streaming training classes and/or recorded their training sessions that can be replayed. Contact you dojo's sensei regarding what your club is doing for online training during the Covid-19 crisis.
COVID-19 Impact Status
MN Executive Order 20 20 – "Stay at Home" is still in effect until May 4, 2020. For the latest information from the MN Governor and MN Health department.
The dojos in our region continue to postpone all onsite class training and events.  All future NCR/AAKF/WTKF scheduled events whether local, national, and/or worldwide,  continue to be reassessed due to the pandemic crisis.  Continue going to the NCR website, Facebook site for up to date information.  We will continue keeping you up to date through the NCR newsletters as well.
In summary, for the month of April all dojos (gyms) are closed until May 4, 2020 since it's a non-essential business.
St. Paul dojo –  is closed for the foreseeable future. Click here for more information.
Mpls dojo is closed. Click here for more information
River Falls –  is closed for the 2020 spring semester ends May 8, 2020
Traditional Karate-do Academy at UofM – all in-person classes cancelled at the UofM
Northfield Club – Access to YMCA facilities is closed and all classes have been canceled until further notice
Jamestown, ND – is closed. Click here for more information.
As a guideline, the criteria your sensei will use to determine the re-opening of their dojo is as follows:
Federal and state governments give the public the all clear sign for gyms (dojos) to re-open.
Your dojo's website and/or NCR newsletter has communicated your dojo is resuming classes.
Parents and/or students make a personal decision when to resume classes based on items #1 and #2 criteria.
2020 NCR Upcoming Calendar of Events
NCR upcoming events
AAKF/WTKF upcoming events

AAKF 2020 Spring Seminar- POSTPONED to Sept 2020
AAKF 2020 Nationals – Richardson, TX – June 23-27, 2020 – will reassess mid-May
WTKF  2020 World Championships –

October 12-18, 2020, 

Joao Pessoa, Paraiba, Brazil – click here for general information. See poster here. Will reassess early Sept due to COVID-19 outbreak.
WTKF – additional events
For More Information and Links
Traditional Karate North Central Region 

Subscription
Art Wong – Traditional Karate North Central Region Director, Godan