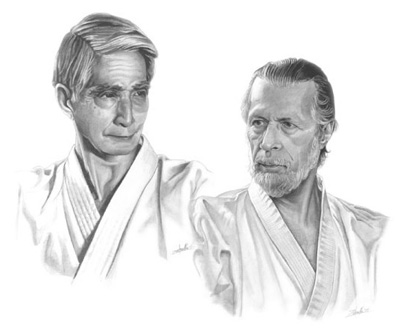 Traditional Karate North Central Region Newsletter
Rescheduled – Mini-Camp – Saturday August 29, 2020
The four hour mini-camp has been rescheduled to Saturday August 29 from noon to 4:00pm at the Mpls dojo-1200 N. Plymouth Ave. Mpls.  All levels are welcome to attend for a nominal fee of $10.00 per person at the door.  Instructors planned for the event are Senseis Tom Meagher (Northfield); Yakino Nakamura (Mpls); Trung Le (UofMN) with assistance from Kara Winter and Mike Ching (St. Paul); and Darren Marr (Mpls).  Six feet social distancing and mask wearing will be adhered to. See poster link.
Come and support our clubs as we slowly expand our training during the pandemic event. More information.
COVID-19 MN Face Covering Requirements and Recommendations
As of July 25, 2020, per the Governor's Executive Order 20-81, people in Minnesota are required to wear a face covering in all public indoor spaces and businesses, unless alone. Additionally, workers are required to wear a face covering when working outdoors in situations where social distancing cannot be maintained. Research has shown that use of face coverings can greatly reduce the risk of infection when combined with other prevention efforts such as social distancing and hand hygiene. More information
NCR dojos have been following the three Ws (3W) – Wear a mask – Watch your distance (6 feet social distancing) and Wash your hands. Continue following the 3Ws while training and outside the dojo.
Sensei Fusaro – Lifetime Commitment to the Art
Shotokan Karate Minnesota updated their information website page on Fusaro Sensei's lifetime commitment to the art of Shotokan Karate. Click here to read more.
A limit of 20 students will be allowed to attend. Please preregister here.
AAKF 2020 September Virtual Seminar
The nationwide COVID-19 pandemic continues to impact large group gatherings. In order to ensure the safety of the instructors and students during this time, the AAKF national organization is planning on using Zoom technology for their 2020 AAKF Fall virtual seminar in September. The virtual seminar will be free. The AAKF virtual seminar will help you continue your training and grow your knowledge of Shotokan karate. As more detail on exact dates and times become available we will pass that information along.
NCR Summer Judging Seminar – Reflection
This summer's NCR Judging Seminar wrapped up in July. The Seminar covered many of the rules, signals, and procedures for Kumite, Kogo, and tento. Content included opening/closing a competition match, the use of hand/flag signals, and contact assessment. Participants also studied kata principles. Content included form/transition/power/body dynamics and mastery, enbu rules and procedures, as well as how to use the scoring forms.
Each Seminar participant played both the role of shu-shin (center judge) and the role of fuku-shin (corner judge). We used kumite- and kogo-based scenario exercises to help participants quickly assess the situation and make rapid judging calls.
Art Wong led the Seminar which was attended by Al Kotula, Trung Le, Dennis Olson, Keith Sullivan, Michael Ching, and Mark Abeln.
Unfortunately, the worldwide pandemic cancelled the summer AAKF 2020 National Championships and postponed the fall WTKF 2020 World Championships. Our NCR judges will miss this year's chance to apply their understanding and expertise of the traditional karate tournament rules and procedures. However, Seminar participants did benefit by keeping the tournament rules and procedures fresh in their minds, sharpening their eyes on what to look for during a match, and exercising their muscle memory reaction timing. This Judging Seminar definitely provided the opportunity to prepare for future NCR, AAKF and/or WTKF competitions.
Dan Rank Registration With AAKF and WTKF Organizations
Once you passed your dan examination, you must register your dan rank with both the AAKF and WTKF organizations. Cost is $150.00 ($50-AAKF/$100-WTKF). Make check payable to AAKF.
Complete both forms: AAKF Dan reg form. WTKF-APPLICATION-FORM.
Mail your check and forms to: Midwest Karate Association St. Paul, 762 E. 7th St., St. Paul, MN 55106.
Dan Examination Testing Dates
The following are tentative dan examination dates/locations. Check with your club's sensei for eligibility as well as dates/times that may change at the last minute.
NCR  Dan exam – 2022 – mid-July. More details to follow on exact date and location.
AAKF Seminar – 2022 April 22-24. More details to follow.
AAKF Nationals – 2022 June 21-25, Dallas, TX. More details to follow.
If you are considering a dan rank test in the near future, you should be preparing for your exam as soon as possible and getting feedback from your club's sensei and sempais. It takes at least 6+ months of constant training both mentally and physically to prepare for a dan exam. For yondan and higher tests, it will take longer to prepare since you must write a thesis, present your paper, and do a kata with bunkai explanation.
Read the following documents for specific dan test requirements and eligibility:
Upcoming Calendar of Events and Registration
Depending on COVID-19 Developments
NCR upcoming events

2022 – Kata Seminar January 29, 2022. SKM dojo in Mpls. Click here for more details.

AAKF/WTKF upcoming events
Traditional Karate North Central Region Subscription
Subscription: To subscribe to the NCR Newsletter send an email to: subscribe@ncr-aakf.org
Include your name and email address with a subject line: "Request: NCR newsletter subscription" .
Art Wong – Traditional Karate North Central Region Director, Godan