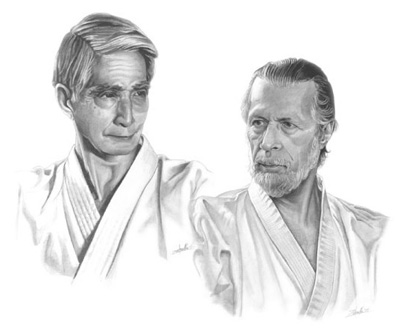 Traditional Karate North Central Region Newsletter
2020 Dan Examination Test Results
Traditional Karate North Central Region (NCR) recently held a dan examination at the Midwest Karate Association St. Paul (MKA) dojo and the Shotokan Karate Minnesota (SKM) dojo. The students looked sharp and had put in many long hours of training to reach their goal.
Congratulations to the following students who successfully passed their dan examination:
Megan Riley – Shodan – MKA St. Paul
Mike Winter – Shodan – MKA St. Paul/SKM
Bill Badlo – Nidan – MKA St. Paul
Again, congratulations students! Now continue to focus your training, expand your knowledge, and help other students reach their goals.
AAKF National Fall Virtual Seminar – Final Virtual Seminar
The American Amateur Karate Federation (AAKF) final Fall 2020 virtual Zoom seminar is on Saturday December 5, 2020 at 9:00 am CST. The seminar will consist of four 1-hour sessions. The virtual training sessions are free and are broadcast via Zoom meeting. The seminars are open to all registered AAKF members.
To join the Zoom session, click here: https://us02web.zoom.us/j/87880651070?pwd=QmEvaG8vTTBuSDRDd3lMNGY1SWJzQT09. (Meeting ID: 878 8065 1070; Passcode: 807969)
Here is the list of schedule times (CST) and instructors for this Saturday's December 5, 2020 virtual seminar
9:00 am to 9:55 am; CST J. Ertl – MKA of St Paul
10:00 am to 10:55 am; CST B. Hays
11:00 am to 11:55 pm, CST R. Kageyama
12:00 noon to 12:55 pm, CST A. Cheah
MN COVID-19 – Dialing Back
On November 18, 2020, Minnesota Governor Walz announced a new set of COVID-19 restrictions for the state of Minnesota (MN). The new restrictions "Dialing Back" went into effect on November 20, 2020 through December 18, 2020. The impact of MN Executive order 20-99 on the NCR is the closing of all of NCR MN dojos during the four week period. In the event the COVID-19 pandemic continues to trend in the wrong direction in MN after December 18, 2020, Governor Walz may extend the restrictions into 2021.
Your sensei has updated his/her training schedule to reflect the new virtual (Zoom) training sessions during the COVID-19 pandemic period.
During this short pause, continue training at home. We expect that you will be training at your club's dojo in the very near future.
AAKF Annual Membership Renewal – March 1 Deadline
Your individual AAKF membership expires March 1. If you renew your current membership before March 1, the renewal cost is only $25. After March 1, a new AAKF membership is $35. Click here to read about AAKF and WTKF membership benefits.
See your club's sensei for registration instructions: preparing the check and returning the completed form, click here for the AAKF individual registration form.  Your club's sensei will register your renewal on the AAKF portal and will mail in your fee and form to the AAKF organization.
Upcoming Calendar of Events and Registration
Depending on COVID-19 Developments
NCR upcoming events

2022 – Kata Seminar January 29, 2022. SKM dojo in Mpls. Click here for more details.

AAKF/WTKF upcoming events
Dan Examination Testing Dates
The following are tentative dan examination dates/locations. Check with your club's sensei for eligibility as well as dates/times that may change at the last minute.
NCR  Dan exam – 2022 – mid-July. More details to follow on exact date and location.
AAKF Seminar – 2022 April 22-24. More details to follow.
AAKF Nationals – 2022 June 21-25, Dallas, TX. More details to follow.
If you are considering a dan rank test in the near future, you should be preparing for your exam as soon as possible and getting feedback from your club's sensei and sempais. It takes at least 6+ months of constant training both mentally and physically to prepare for a dan exam. For yondan and higher tests, it will take longer to prepare since you must write a thesis, present your paper, and do a kata with bunkai explanation.
Read the following documents for specific dan test requirements and eligibility:
Dan Rank Registration With AAKF and WTKF Organizations
Once you passed your dan examination, you must register your dan rank with both the AAKF and WTKF organizations. Cost is $150.00 ($50-AAKF/$100-WTKF). Make check payable to AAKF.
Complete both forms: AAKF Dan reg form. WTKF-APPLICATION-FORM.
Mail your check and forms to: Midwest Karate Association St. Paul, 762 E. 7th St., St. Paul, MN 55106.
Traditional Karate North Central Region Subscription
Subscription: To subscribe to the NCR Newsletter send an email to: subscribe@ncr-aakf.org
Include your name and email address with a subject line: "Request: NCR newsletter subscription" .
Art Wong – Traditional Karate North Central Region Director, Godan