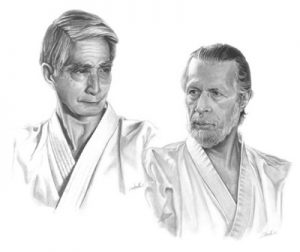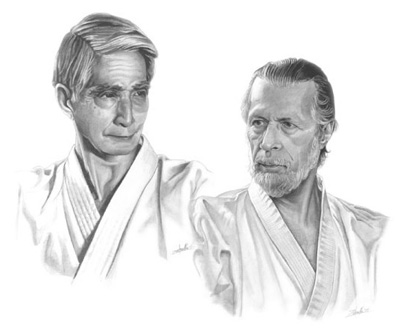 Traditional Karate North Central Region Newsletter 
COVID-19 Impact –
Update
The Minnesota (MN) "Stay at Home" order expired May 18, 2020. The new "Stay Safe MN" order is now in effect which allows the MN governor to slowly dial up the opening of  more workplaces, social gatherings and schools. The MN governor can dial up or down the safety risk depending on the MN pandemic situation. Also, follow the posted Industry Guidance for Safely Reopening. As of June 5, 2020, MN's dial safety diagram below has been updated depicting the latest safety strategy the state is following.  Gyms/fitness facilities, which includes dojos, can gradually start re-opening Wednesday, June 10, 2020 while following the gym-fitness guideline. See more details below regarding each dojo's re-opening status.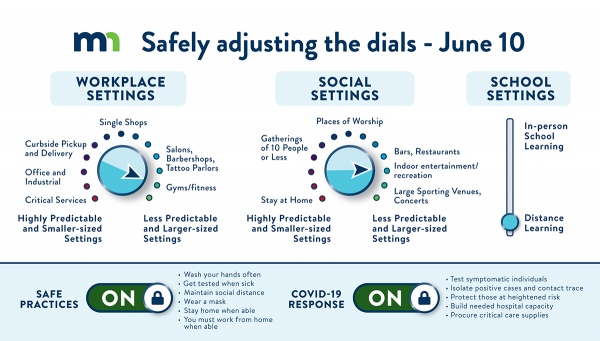 NCR Dojos Gradual Re-opening Status –
Update
Wednesday June 10, 2020, gyms and fitness type facilities can begin re-opening with the following restrictions:
Location: Indoors and outdoors
Capacity: 6 feet of social distance, max 25%, not to exceed 250 individuals for indoors and outdoors settings each – see guidance for additional details
Masks: Strongly recommended for workers and participants

Continue to go to 

https://staysafe.mn.gov/

 for more details on MN's stay safe timeline phases
NCR dojos have started their planning to re-open while following MN guidelines for social distancing and the use of personal protective equipment.  Continue to go to your dojo's website or contact your club's sensei to verify when your dojo's facility will re-open and what the new training schedule hours will be.
Dojo Training Photos During COVID-19
St. Paul dojo training in the park with Senseis Ertl and Bendickson on Tues/Thurs at 5:00 pm and on Sat. 10:00 am and following the MN COVID -19 social gathering order and distance
SKMN (Mpls) students training at their dojo's parking lot during their Saturday 10:00 am class with Sensei Kotula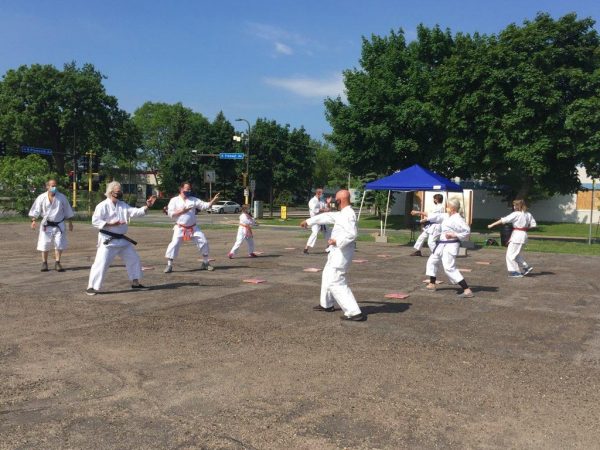 SKMN's landlord boarded up the dojo due to the rioting Mpls May 27-30, 2020 regarding the death of George Floyd. Both Mpls and St. Paul dojos have taken precautions during the night time riots.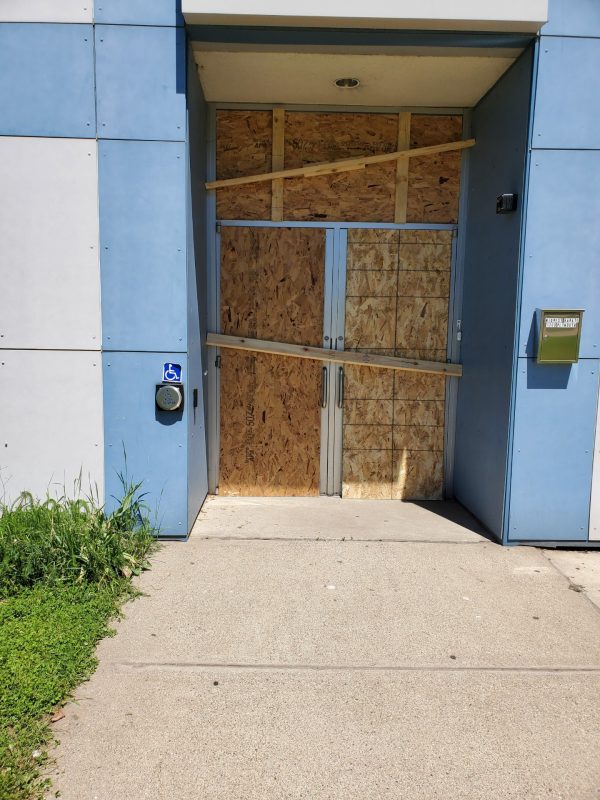 Sensei Trung's UMN club – montage of his club's students doing a virtual training using Zoom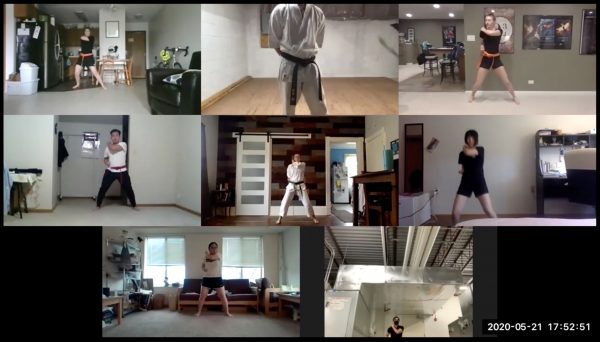 Added

– Sensei Meagher – Saturday 11:00 am Zoom class with his wife explaining a kumite drill to the Zoom participants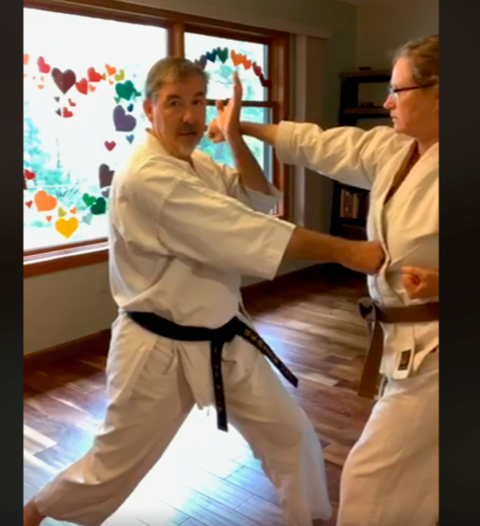 NCR Judging Seminar
With the advent of the COVID-19 pandemic worldwide, AAKF and WTKF have both canceled their  championship events for 2020. This has prevented the NCR athletes and judges the opportunity to test their skills at a championship level event.  In order to keep our athletes and judges' skills and knowledge of the AAKF/WTKF tournament rules and procedures current and fresh, NCR will be conducting a series of four weekly judging seminars starting Thursday June 4, 2020 6:00pm.  The classes will be held at the Swede Hollow Park 665 Greenbrier St, St Paul, MN 55106 near the St. Paul dojo off of East 7th St.  The judging seminar will be repeated on Saturdays at 11:15 am. The seminar is open to all athletes and judges who wish to learn and review the competition rules and procedures.  Also, the St. Paul dojo will be holding a karate class on the same days as the judging seminar at the Swede Hollow Park if you wish to train before the seminar.  If severe weather is approaching the day of the seminar, we will cancel that day's judging seminar. If you have any questions about the judging seminar, send an email to the director@ncr-aakf.org.
World Traditional Karate-do Federation Streaming Video
The WTKF organization finished their live streaming video training sessions on June 1, 2020.  Below is Sensei Soolmaz Abooali, godan from the AAKF Mid-Atlantic Region.  She taught one of the WTKF online training sessions on Friday May 15, 2020, see her entire video here.
Future Dan Examination Dates
The following are tentative dan examination dates/locations. Check with your club's sensei for eligibility as well as dates/times that may change at the last minute.
NCR  Dan exam – Tentative Fall 2020
AAKF fall seminar – Tentative – Sept 2020
If you are considering a dan rank test in 2020, you should be preparing for your exam as soon as possible and getting feedback from you club's sensei and sempais.  It takes at least 6+ months of constant training both mentally and physically to prepare for a dan exam. For yondan and above dan tests, it will take longer to prepare since you must write a thesis, present your paper,  and do a kata with bunkai explanation.
Students testing must read the following documents for specific dan test requirements and eligibility:
Shodan-Nidan– NCR Testing guidelines handbook.
AAKF Technical Qualification Guide – Rank Promotion – requirements for all dan ranks.
For our region, the dan test cost is $100 times the dan rank you are testing for, e.g., $100 x 2nd dan (nidan) test = $200.00.
Dan Rank Registration With AAKF and WTKF Organizations
Once you passed your dan examination, you must register your dan rank with both the AAKF and WTKF organizations. Cost is $150.00 ($50-AAKF/$100-WTKF). Make check payable to AAKF.
Complete both forms: AAKF Dan reg form.  WTKF-APPLICATION-FORM.
Mail your check and forms to: MKA – St. Paul Dojo, E. 7th St., St. Paul, MN 55106.
2020 NCR Upcoming Calendar of Events
NCR upcoming events
AAKF/WTKF upcoming events
For More Information and Links
Traditional Karate North Central Region 

Subscription
Art Wong – Traditional Karate North Central Region Director, Godan