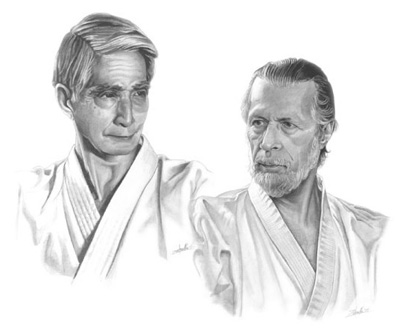 Traditional Karate North Central Region Newsletter
Upcoming Events:
2022 – January, 29 Kata seminar at SKM dojo in Mpls. Click here for more detail
Click Here for more upcoming events.
October 2020 Shiai Kata Recap
The Traditional Karate North Central Region held a small kata shiai on Saturday October 31, 2020. The athletes had a good time demonstrating their skills in kata and getting feedback from the judges on their performance. Congratulations to all the winners.
Click here for photos of the kata shiai.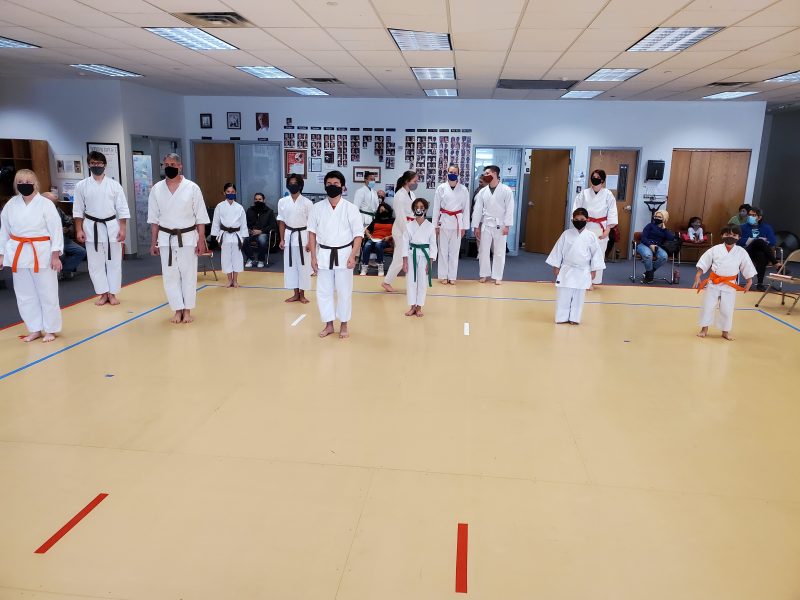 Athletes bowing in to start the kata shiai
AAKF National Fall Virtual Seminar – Final Two Seminars
The American Amateur Karate Federation (AAKF) has two Fall 2020 virtual seminars remaining. The next Zoom session is on Saturday November 7, 2020 at 9:00 am CST. The seminar will consist of four 1-hour sessions. The virtual training sessions are free and are broadcast via Zoom meeting. The seminars are open to all registered AAKF members.
To join the Zoom session, click here: https://us02web.zoom.us/j/87880651070?pwd=QmEvaG8vTTBuSDRDd3lMNGY1SWJzQT09. (Meeting ID: 878 8065 1070; Passcode: 807969)
The next AAKF Zoom seminar will be on
Saturday November 7, 2020 from 9:00 am CST to 1:00 pm CST.

Saturday December 5, 2020 from 9:00 am CST to 1:00 pm CST.
A complete list of instructors, dates and their scheduled time slot as well as the Zoom link information can be found here.
Shodan/Nidan Dan Examination – Reminder
NCR will be conducting a shodan/nidan dan examination on Saturday December 5, 2020 at 2:00 pm at the SKM dojo. Contact your club's sensei if you are planning on testing. Your sensei will then contact Art Wong to help with the planning. See Shodan-Nidan dan test requirement – NCR Testing guidelines handbook.
Laurie Elliott wins 2020 Mayoral Race in Newport, MN
Laurie Elliott, a yondan and former winner of numerous US national competitions and an international competitor in the AAKF and WTKF organization, respectively, ran for the 2020 mayoral race in her hometown of Newport, MN. All her hard work in campaigning resulted in winning the race as the newly elected Newport, MN mayor. Congratulation to Mayor-elect Laurie Elliott on winning the mayoral race in Newport, MN.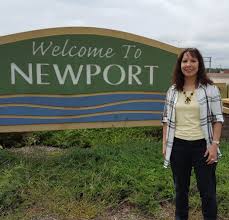 Traditional Karate-Do Academy at UMN Fund Raiser
Sensei Trung Le is having a fund raiser for his Traditional Karate-Do Academy at the University of Minnesota by selling t-shirts. The price is $19 each if you pay using Venmo or $20 each if pay by cash. Help support this club by purchasing a shirt. Contact Sensei Le at umnsensei@gmail.com. Shirt descriptions – Color: Light Royal Blue, Front: club logo, Back: Dento Karate-do (Traditional Karate-do)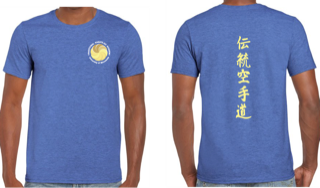 Traditional Karate-do Academy is the only University of Minnesota traditional karate-do sports club sanctioned under NCR, AAKF and WTKF organizations.
World Traditional Karate-do Federation – Fall Newsletter
Source: https://www.wtkfederation.org/news-wtkf. To all WTKF members,
We hope you are doing well and staying healthy during these crazy times. We are looking forward to the day when we have overcome Covid-19 and can gather together at seminars, camps, and championships. We have several pieces of news to share with you.

First, it is our great pleasure to announce that our organization, the WTKF, is strong and steadfastly growing. As examples, the Polska Unia Karate Tradycyjnego was created a few months ago and under the leadership of Pawel Janus and Lukasz Wojcik, it has become strong and active. This organization has already held several events including Gasshuku at Dojo Stara Weiss, with guest instructor Sensei Kwiecinski.

Another new organization, the Czech Traditional Karate-Do Alliance located in the Czech Republic, has recently joined us. It is headed by Dr. Peter Skryja who is a former student of Sensei Nishiyama and a pioneer of Traditional Karate in Czech Republic since the 1990s. His new organization is also strong and cohesive, with great athletes and seekers of the Traditional Karate-do path.

Other organizations located in Lithuania, Romania, and Ukraine are also in the process of joining WTKF.

Our second news is in regard to the World Championship to be held in Joaopessoa, Brazil after having defeated the Covid-19 pandemic. The Brazilian organization is working hard to make this Championship a memorable event for all athletes, judges, and participants.

Third, our new Dan registration will resume in October 2020 after making some small changes and adding the WTKF president's signature. This change is necessary in order to differentiate from the Dan certificates that were stolen by the small group of usurpers of Fake WTKF. Please make sure to register everyone's Dan ranking and to pay the yearly membership fee since the organization cannot operate without proper funding.
Since its inception in October 2014, our organization and office in Switzerland has been strong and solidifies our headquarter office in the country.

Fourth, our legal action against the small group of usurpers of Fake WTKF, is on-going and we will not stop until all our rights and belongings are returned to us.

Finally, we are so happy to announce a new member of Sensei Kwiecinski's family, Michal Witold Kwiecinski who was born in August 2020. He has brought immense joy to the Kwiecinski family, friends, and students. We look forward to meeting Michal in one of our events in the near future.

As you can see, Covid-19 has not stopped our progress and we are continuing to grow and enhance our technical, mental, and spiritual ability on a daily basis. You will receive our 2021 Schedule of Events by the end of this year.

We wish you all great health, love, and prosperity. And we thank you for your continued commitment to Traditional Karate-Do, WTKF, and its officers and instructors.

Sincerely,
Nelson Carrión, WTKF General Secretary
Dan Examination Testing Dates
The following are tentative dan examination dates/locations. Check with your club's sensei for eligibility as well as dates/times that may change at the last minute.
NCR  Dan exam – 2022 – mid-July. More details to follow on exact date and location.
AAKF Seminar – 2022 April 22-24. More details to follow.
AAKF Nationals – 2022 June 21-25, Dallas, TX. More details to follow.
If you are considering a dan rank test in the near future, you should be preparing for your exam as soon as possible and getting feedback from your club's sensei and sempais. It takes at least 6+ months of constant training both mentally and physically to prepare for a dan exam. For yondan and higher tests, it will take longer to prepare since you must write a thesis, present your paper, and do a kata with bunkai explanation.
Read the following documents for specific dan test requirements and eligibility:
Dan Rank Registration With AAKF and WTKF Organizations
Once you passed your dan examination, you must register your dan rank with both the AAKF and WTKF organizations. Cost is $150.00 ($50-AAKF/$100-WTKF). Make check payable to AAKF.
Complete both forms: AAKF Dan reg form. WTKF-APPLICATION-FORM.
Mail your check and forms to: Midwest Karate Association St. Paul, 762 E. 7th St., St. Paul, MN 55106.
Upcoming Calendar of Events and Registration
Depending on COVID-19 Developments
NCR upcoming events

2022 – Kata Seminar January 29, 2022. SKM dojo in Mpls. Click here for more details.

AAKF/WTKF upcoming events
For More Information and Links
Traditional Karate North Central Region Subscription
Subscription: To subscribe to the NCR Newsletter send an email to: subscribe@ncr-aakf.org
Include your name and email address with a subject line: "Request: NCR newsletter subscription" .
Art Wong – Traditional Karate North Central Region Director, Godan