Traditional Karate North Central Region Newsletter
1) MKA Minneapolis dojo has moved (update) –  click here to see updated photos and new dojo location.

1200 Plymouth Ave N, Minneapolis, MN (two blocks west of the old dojo)
The Mpls dojo's kids camp will be conducted at the new location starting Monday July 16.
The Minneapolis dojo is looking for donations to help with the move expenses. Click here for the donation link.
2) 2018 AAKF National – Lexington, SC – June 19-23. RESULTS
Congratulations to the traditional karate north central region's athletes on a very successful 2018 AAKF Nationals.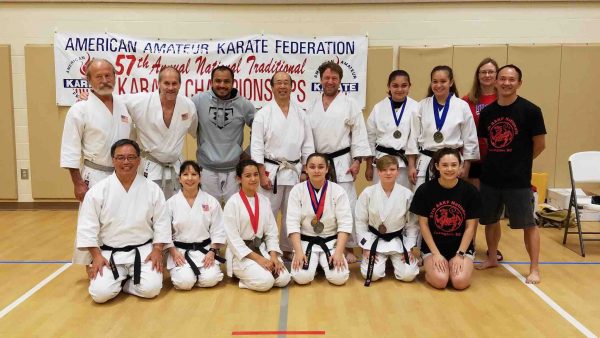 Traditional Karate North Central Region athletes and judges
Photos of the Nationals have been uploaded – see Facebook photos. We have a lot of videos that are being edited and uploaded by Trung Le. see Facebook videos.
North Central Region's results
ADULT BLACK BELT – Women
Kata – Women 2nd: Cassie Le
Fukugo – Women 3rd: Meghan Wilson
Kogo – Women 3rd: Meghan Wilson
Kumite – Women 3rd: Cassie Le; 4th Meghan Wilson
ADULT BLACK BELT – Men
Kata – Men 2nd: Al Kotula; 4th: Dennis Olson
Team Kata – Men 1st: Minnesota
Fukugo – Men 3rd: Tom Hauwiller
Kogo – Men 3rd: Tom Hauwiller
Kumite – Men    1st Jeff Davila; 4th Tom Hauwiller
Team Kumite – Men 2nd: Minnesota
 YOUTH – CLASS B-C (6th Kyu – 3rd Kyu) 2nd: Paulina Hackett
 YOUTH – ELITE (Black Belt Division)
Kata 1st: Pam Sanchez
Kumite – Pool A 1st: Abby Sanchez; 3rd: Emmett Hauwiller
YOUTH – Team Kata (all divisions) 1st: Minnesota (Ruby Sanchez, Abby Sanchez, Pam Sanchez)
The official results will be posted on the AAKF website.
The 2019 AAKF Nationals is tentatively planned for San Mateo, CA hosted by the AAKF Western Region. More details will become available early 2019.
3) The AAKF organization promotional video
 The AAKF organization produced a promotional video in 2017 with the help of Vince O'Connor from the Madison, WI dojo. The footages used are from the 2016 WTKF championships in Poland. Consider adding this video to your dojo's website to help promote your dojo and traditional karate. Click here to view the video.   A new 2018 AAKF promotional video is being made and will be available later this year. We will announce its availability in a future NCR newsletter.
4) 2018 WTKF Championships – St. John's Newfoundland Canada – Oct 22-28
Hotel, tournament rules, and tournament information can be found on the WTKF website. http://www.wtkfkarate.org/traditional-karate-do-renaissance-festival/ The Delta hotel is the host hotel for the event and it has a skyway connection to the arena.
Athlete's dan rank must be registered with the AAKF and WTKF organization.  No visa required from the US to Canada.
2018 NCR Upcoming Calendar of Events
Go to the NCR website for more details as they become available.
2018 MKA Mpls summer camp – TBD –

update

2018 Fall shiai Sept 22 noon –

Tentative

– Mpls dojo
2018 WTKF World Championship – Oct 22-28 – St. John's, Newfoundland, Canada. Click here for more information.
2018 NCR kumite seminar – Nov 17 noon-

Tentative

.  St. Paul dojo
2019 AAKF Spring seminar – TBD – Mpls dojo

(new)

2019 AAKF Nationals – TBD – San Mateo, CA

(new)
For the latest NCR events and newsletter updates,  click here
For past Traditional Karate North Central Region newsletters, click here.