Traditional Karate North Central Region Newsletter
 1) 2018 May 4th NCR regional eliminations results –
Congratulation to the following adult black belts who will be representing the North Central Region at the 2018 American Amateur Karate Federation Nationals : Cassandra Le, Meghan Wilson, Jeffry Davila, Tom Hauwiller, Al Kotula, and Dennis Olson.
Help the adult and youth athletes with their travel expenses by donating to the tax deductible donation website. Click here to the donation link. You can also drop off or mail your contributions to the St. Paul dojo.
Click here for more information. on the upcoming AAKF Nationals in Lexington, SC June 19-23
2) 2018 May 5th  St. Paul kids tournament results 
What a superb Saturday afternoon for the kids shiai on May 5. Click here for photos and videos on the kids tournament on the  NCR Facebook site.
3) Positive Body Image Workshop May 12, 2018 | 1:00- 3:00pm | MKA St. Paul  Taught by Meghan Wilson
Two hour karate workshop for all genders. This workshop is for those looking to improve their relationship to their body, including those struggling with eating disorders. Workshop will include a 1 hour beginner karate class (no previous experience necessary), followed by 30- 45 minute discussion group. Click here for more information
Note: Special price – Take this class and the 4-8pm self-defense class for a total of $65
4) Self-Defense Class May 12, 2018 | 4- 8pm  MKA St Paul
Taught by Anita Bendickson and Meghan Wilson
The class will cover basic information on prevention as well as how attacks start. This session will include basic, practical physical skills for physical resistance. This will include basic strikes, kicks and blocks as well as practice to gain stability, balance and control once a situation has become violent. Controlled practice with partners would allow participants to see how these skills can be used most effectively in both grabbing and hitting situations. Click here for more information.
Note: Special price – Take this class and the 1-3pm Positive Body Image Workshop for a total of $65.
5) U of M 2018 Spring semester karate class
Sensei Trung Le's 2018 Spring karate class at the University of Mn had a great turnout of new students. Congratulations to the students passing their new kyu rank recently.  We wish the students a great summer and to continue down the path of Shotokan karate with Sensei Le and the Traditional Karate North Central Region clubs.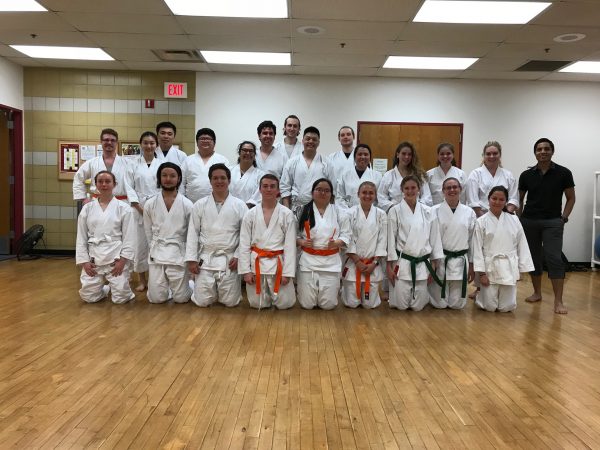 2018 NCR Upcoming Calendar of Events
Go to the NCR website for more details as they become available.
2018 AAKF Nationals – June19-23 – Lexington, South Carolina – Click here for more information.
2018 MKA Mpls summer camp – Aug 3-5 Mpls dojo including Dan exam (shodan-sandan exams only)
2018 Fall shiai Sept 22 noon Mpls dojo
2018 WTKF World Championship – Oct 22-28 – St. John's, Newfoundland, Canada. Click here for more information.
2018 NCR kumite seminar – Nov 17 noon Paul dojo
Art Wong – Traditional Karate North Central Regional Director