Traditional Karate North Central Regional Newsletter 
1) Mpls dojo fall seminar results and Sensei Fusaro celebration Sept 7-8, 2018 a great success!  
Another successful and exciting seminar taught by Sensei Smaby and Sensei Marr. Good turnout of students attending and absorbing new found knowledge on karate techniques and kata application. Sensei Smaby taught us Junro Shodan kata that he uses in his region. Junro means "the next step or level up". Like Heian kata series, Junro is a series of katas from shodan to godan.
Click here to see photos from the seminar.
Saturday morning session attendees
We celebrated with Sensei Fusaro on his 60 years of teaching karate at the Midwest karate Association in Minneapolis, MN. and celebrating his birthday.  We reminisced with Sensei on his long career and what the future will look like.
Click here to read the press release – Sensei Fusaro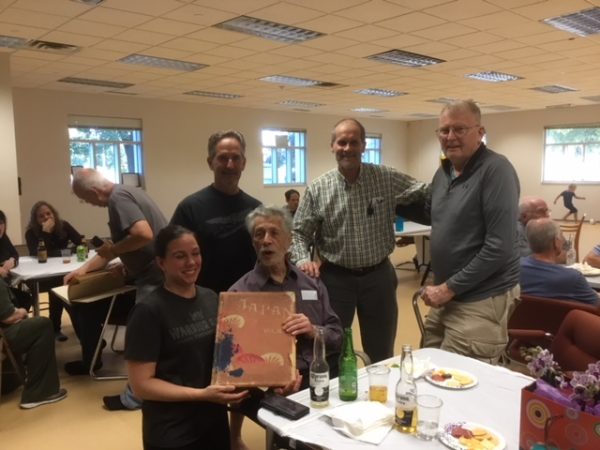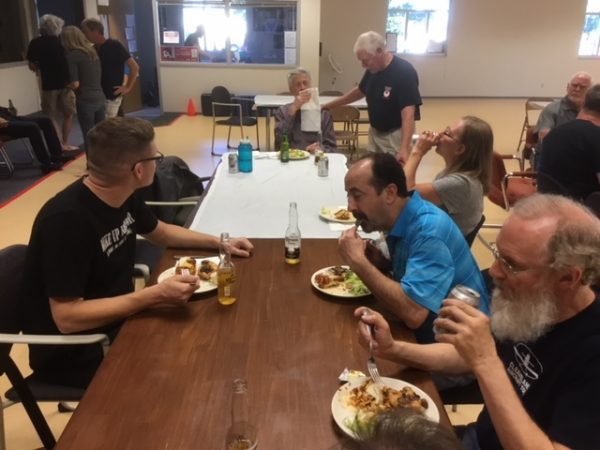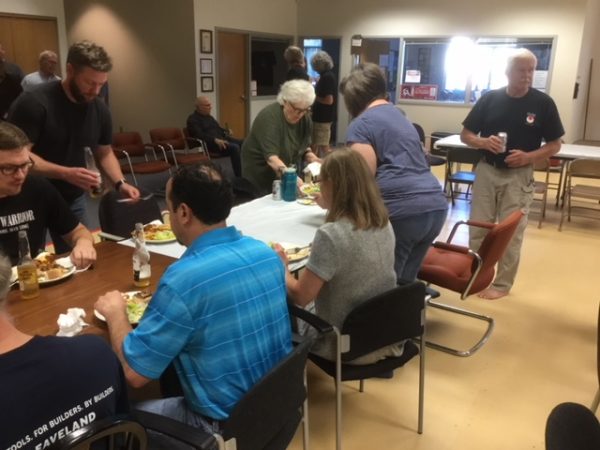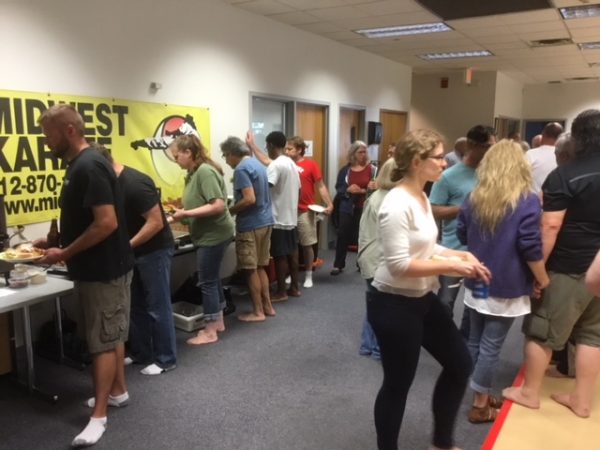 Click here for more photos of the celebration. (New)
2) NCR shiai – Saturday noon Oct 6, 2018 Mpls dojo click here to read more.
Get ready for the 2018 fall NCR shiai which is less than one month away. The shiai will be held Saturday noon Oct 6 at the Mpls dojo.  Use the shiai to sharpen your kata and kumite skills for your next examination, tune up for the Oct 22-28 World championships if you are athlete or judge, or come to have fun meeting and competing with your fellow karatekas.  Click here for online registration. (New)
3) 2018 WTKF Championships – St. John's Newfoundland Canada – Oct 22-28
The following people will be representing our region as part of the USA team at the World Championships in Newfoundland, Canada: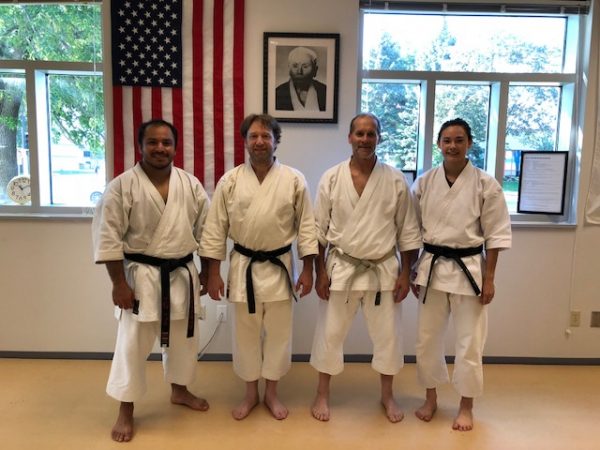 Men's team: Jeffrey Davila, Tom Hauwiller, and Al Kotula; Cassie Le for women's team,  missing was Dennis Olson and Meghan Wilson.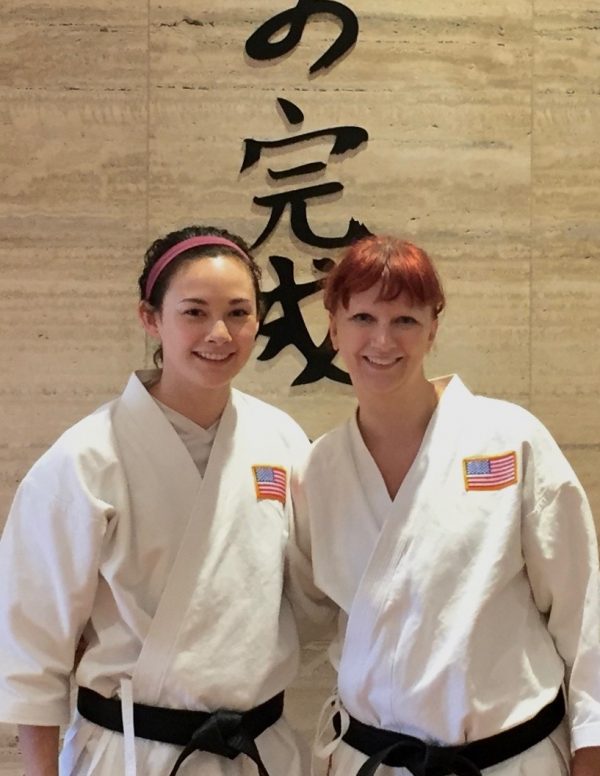 Women's team: Cassie Le, Meghan Wilson,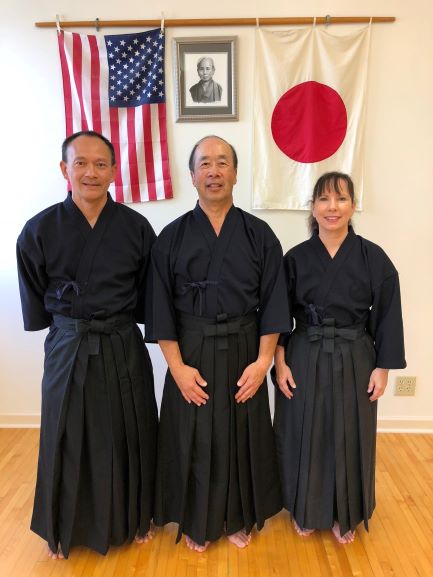 Judges: Trung Le, Art Wong, Laurie Elliott
Hotel, tournament rules, and tournament information can be found on the WTKF website. http://www.wtkfkarate.org/traditional-karate-do-renaissance-festival/ The Delta hotel is the host hotel for the event and it has a skyway connection to the arena.
4) Future dan examination dates
The following are tentative dan examination dates/location. Check with your club's sensei as dates/times may change at the last minute.
2018 Nov 17 Mpls dojo; as part of the 2018 NCR Nov kumite seminar; Shodan-Sandan level dan examinations only; conducted by local NCR senseis
2019 March/April Mpls dojo; part of the 2019 AAKF 

spring

seminar; all dan ranks; conducted by AAKF technical committee
2019 July LA, Calif.; part of the 2019 AAKF Nationals seminar camp; all dan ranks; conducted by AAKF technical committee
Students testing must read the following documents for specific dan test requirements and eligibility:
2018 NCR Upcoming Calendar of Events
Go to the NCR website for more details as they become available.
2018 NCR Oct shiai  – Mpls dojo Oct 6 noon – Click here for more information.
2018 WTKF World Championship – Oct 22-28 – St. John's, Newfoundland, Canada. Click  here for more information.
2018 NCR Nov kumite seminar – Nov 17 noon. Mpls dojo; Shodan-Sandan level dan exam.
2019 NCR tentative Calendar of Events
2019 AAKF Spring seminar – March/April – Mpls dojo including dan examination all ranks, examiner examination, etc. includes dan exam
2019 AAKF Nationals – July – LA, California, includes dan exams
For the latest NCR events and newsletter updates,  click here. For Mpls dojo events, click here. For St. Paul dojo events, click here.
For past Traditional Karate North Central Region newsletters, click here.
Art Wong – Traditional Karate North Central Region Director