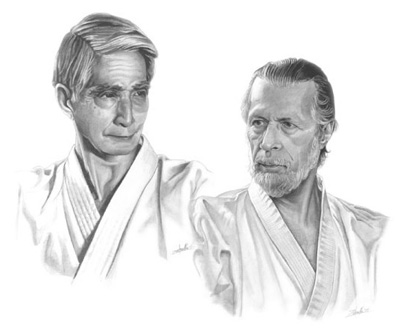 Traditional Karate North Central Region Newsletter
Kumite Shiai April 24, 2021 – Results
Traditional Karate North Central Region held a mini-kumite shiai on April 24, 2021 at the Shotokan Karate MN dojo. The participants had a good time testing their reaction speed against a one-step attack while still maintaining a six foot distance between each other. The students demonstrated good agility against an opponent. The judges had the opportunity to recalibrate their judging skills and provide great feedback to the students.
Click here to see the photos and videos. Additional photos from the UMN club click here.
Apply Karate To All Things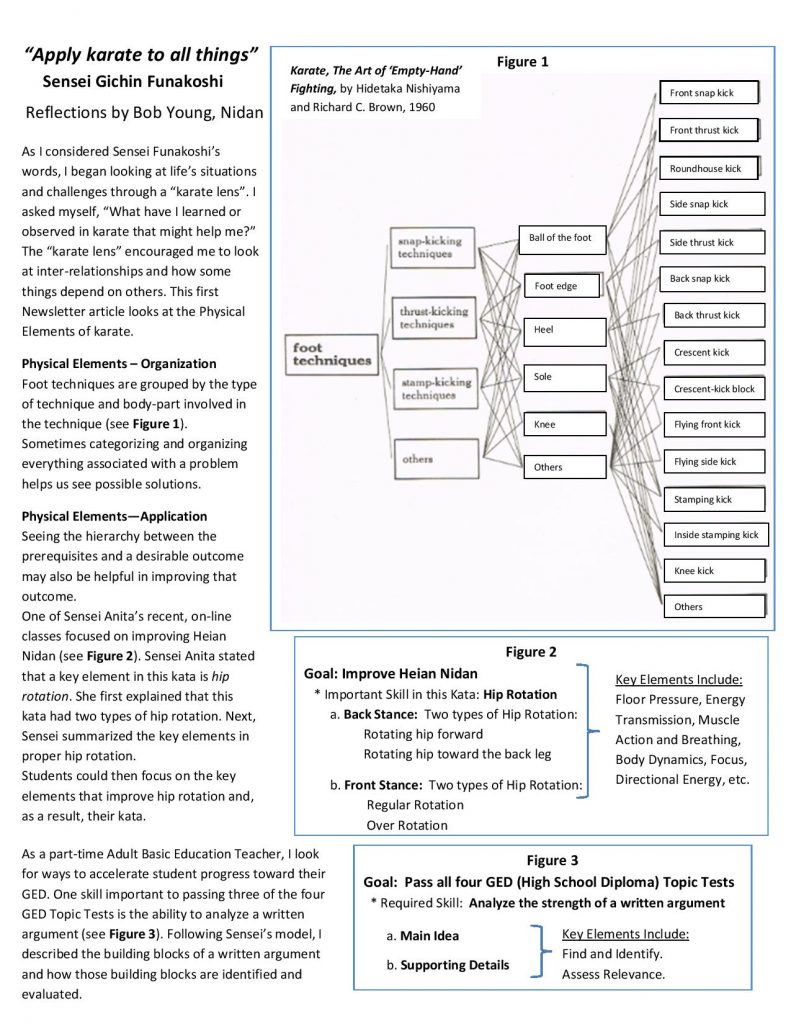 AAKF 2021 Spring Seminar May 15, 2021
A second AAKF Zoom seminar (kata) is also scheduled for Saturday, May 15, 2021. The two 1-hour Zoom seminar will focus on kata and it begins at 11:00am Central. Click here for more details regarding the Zoom seminar topics, instructors, and dates/times. This is your opportunity to engage with the AAKF organization and fellow karatekas from around the US. Come learn and have fun! FYI-The third AAKF Zoom seminar (kumite) is scheduled for June 12 , 2021.
AAKF Dan Test – May 15, 2021
Reminder – As part of the AAKF 2021 spring seminar, the AAKF Technical Committee will be conducting a Zoom dan test on May 15, 2021 at 1:00pm CDST. Registration for the dan test expired on April 30, 2021. Contact Art Wong at director@ncr-aakf.org if you have any questions.
2021 NCR Upcoming Calendar of Events
NCR upcoming events

November 6, 2021 11:30am-5:00pm – UofM Fall 2021 Traditional Karate-do Tournament is hosted by Traditional Karate-do Academy at University of MN club. Location: Van Cleve Community Center 901 SE 15th Ave Minneapolis, MN 55414. Click here for the latest flyer. Click here for more detail and online registration.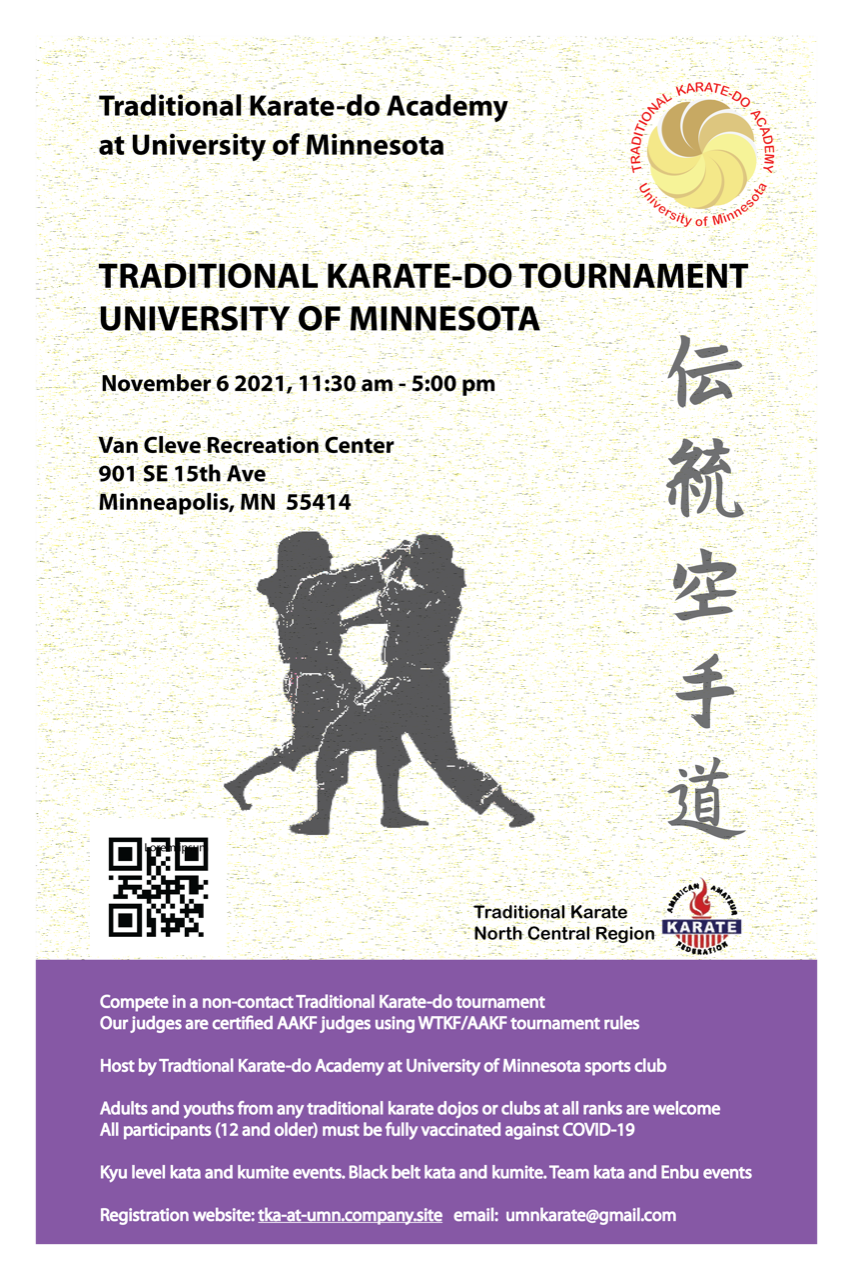 Madison Japanese Karate Club's annual fall tournament October 23, 2021. Click here for more details. Come and compete, judge, or watch and support your fellow karatekas.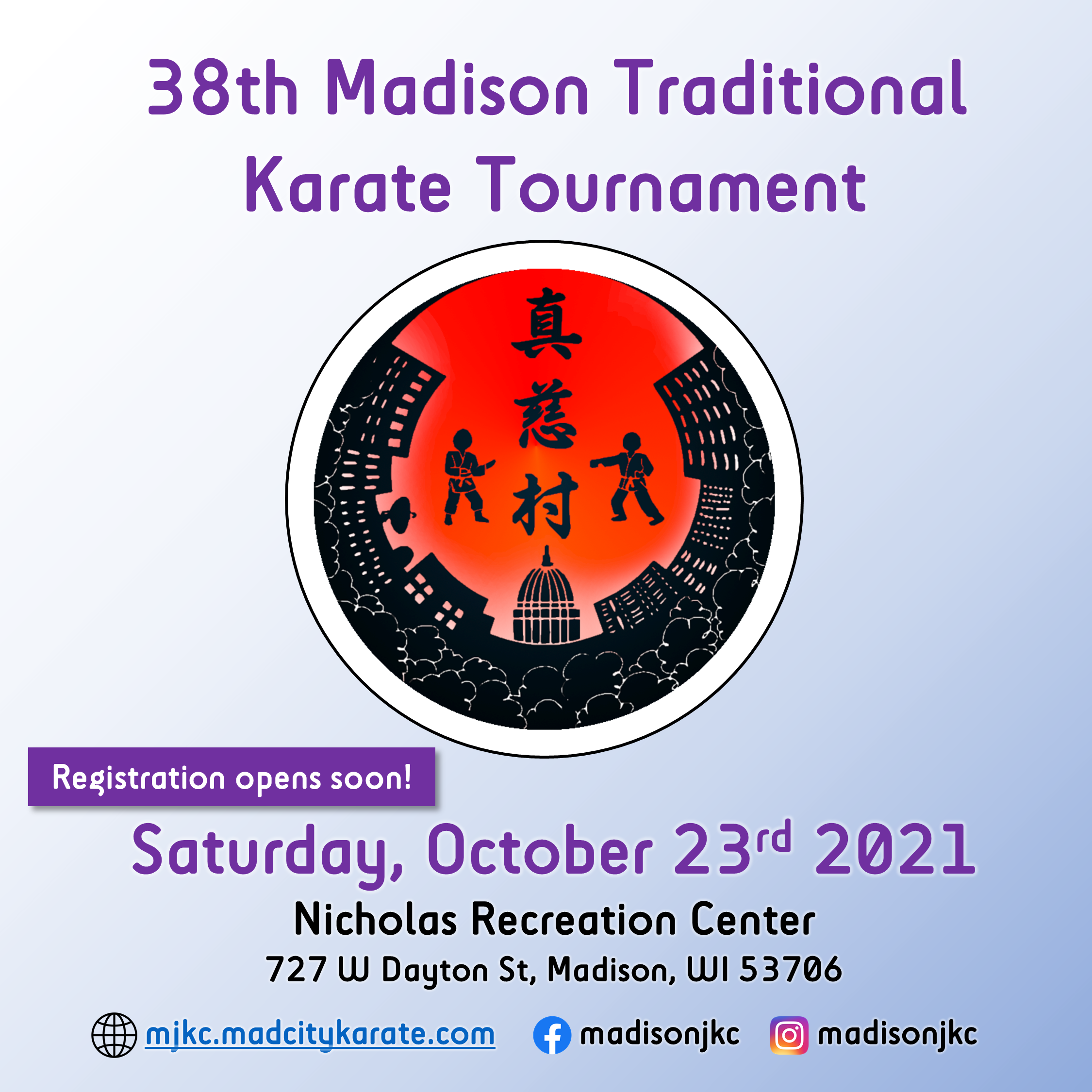 AAKF/WTKF upcoming events

AAKF 2021 Instructor Program taught by AAKF Technical Committee – October 16 (resceduled) and November 13, 11:00am-1:00pm Central Time
AAKF 2021 National Championship postponed to 2022. See AAKF Nationals website for more information.

WTKF  2021 World Championships postponed to 2022
Dan Examination Testing Dates
The following are tentative dan examination dates/locations. Check with your club's sensei for eligibility as well as dates/times that may change at the last minute.
NCR  Dan exam – 2021 TBD
AAKF Nationals – 2022 Dallas, TX
If you are considering a dan rank test in the near future, you should be preparing for your exam as soon as possible and getting feedback from your club's sensei and sempais. It takes at least 6+ months of constant training both mentally and physically to prepare for a dan exam. For yondan and higher tests, it will take longer to prepare since you must write a thesis, present your paper, and do a kata with bunkai explanation.
Read the following documents for specific dan test requirements and eligibility:
Dan Rank Registration With AAKF and WTKF Organizations
Once you passed your dan examination, you must register your dan rank with both the AAKF and WTKF organizations. Cost is $150.00 ($50-AAKF/$100-WTKF). Make check payable to AAKF.
Complete both forms: AAKF Dan reg form. WTKF-APPLICATION-FORM.
Mail your check and forms to: Midwest Karate Association St. Paul, 762 E. 7th St., St. Paul, MN 55106.
Traditional Karate North Central Region Subscription
Subscription: To subscribe to the NCR Newsletter send an email to: subscribe@ncr-aakf.org
Include your name and email address with a subject line: "Request: NCR newsletter subscription" .
Art Wong – Traditional Karate North Central Region Director, Godan