Traditional Karate North Central Region Newsletter
NCR Winter Shiai
March 25, 2023
The Traditional Karate North Central Region (NCR) is having a winter shiai on Saturday March 25, 2023 from noon-3:00pm hosted at the SKM dojo. This is your opportunity to test your kumite and kata skills with fellow katatekas and get feedback from the NCR judges.  Come to the winter shiai for fun and excitement, and support your fellow karatekas as they test their skills against their fellow athletes. Athletes and certified AAKF judges who are going to the 2023 AAKF National Championships in Washington, DC can use this shiai in preparation for the 2023 AAKF Nationals. Click here for more details on the shiai.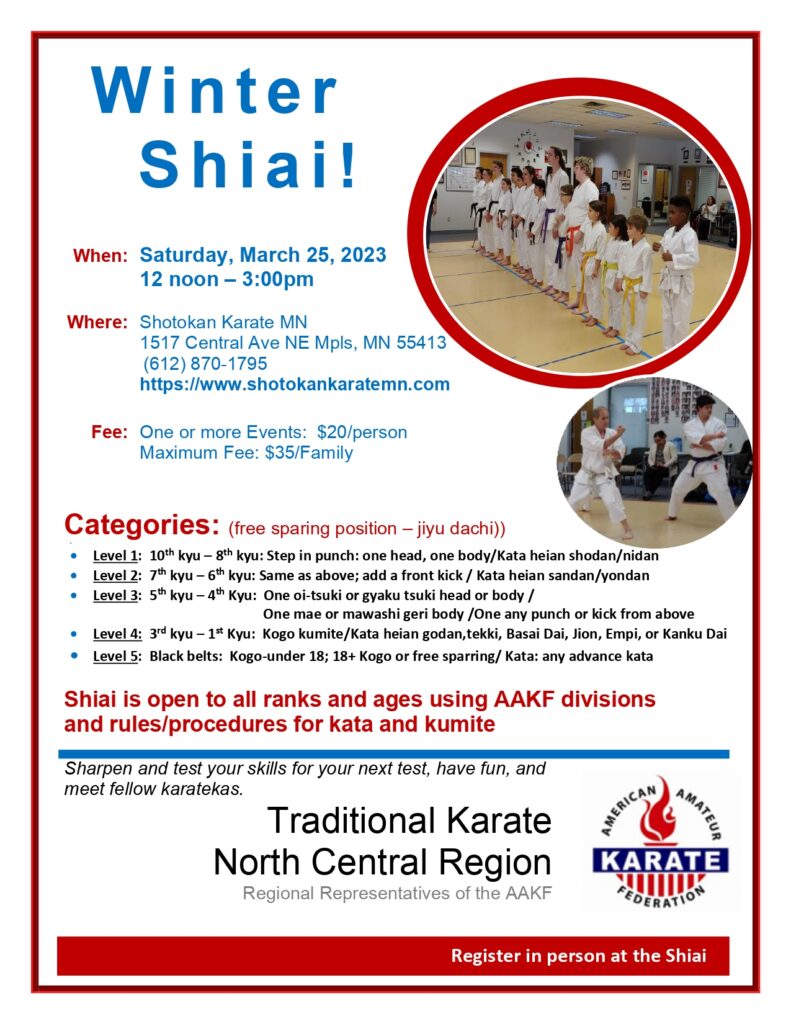 AAKF 2023 Seminar
April 21-23, 2023 – Mpls, MN
The 2023 American Amateur Karate Federation (AAKF) seminar will be held at the Van Cleve Recreation Center in Minneapolis Friday April 21 to Sunday April 23. There will be a dan and certifcation examinations Saturday afternoon. Click here for the online seminar registration link, schedule information, and hotel recommendation. Click here for the flyer. QR code to the registration link: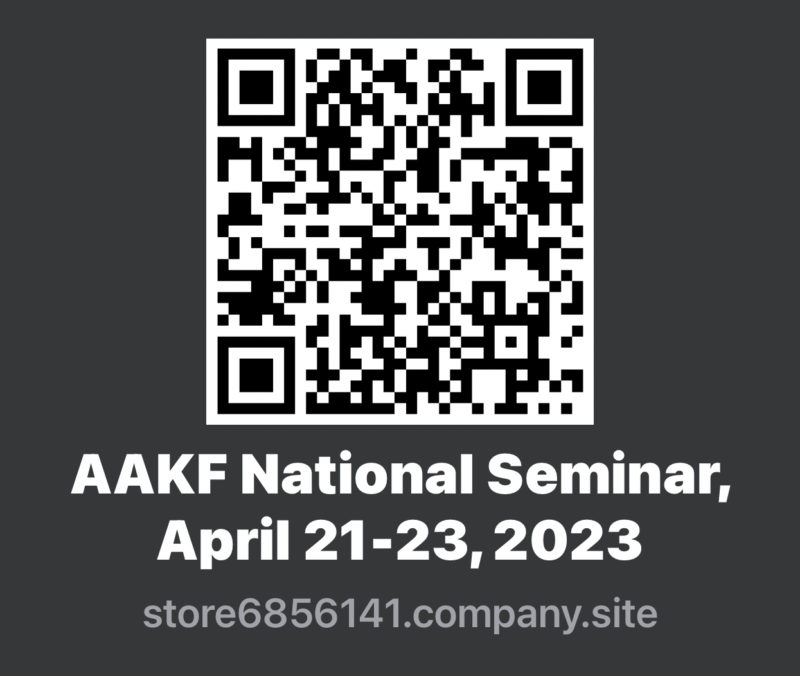 AAKF Annual Membership Renewal – March 31 Deadline
Final Reminder
The annual AAKF Membership Renewal deadline has been extended to March 31, 2023. Individual AAKF memberships expire March 31. If you renew your current membership before March 31, the cost is only $25. After March 31, your AAKF individual membership renewal is $35. For club renewal, the cost is $170.00. Check this out -> Benefits of an AAKF membership.
Click here to access the AAKF registration form. Write a check following the instructions from your club's sensei. Deliver your payment and registration form to your club's sensei – he/she will then mail the documents to the AAKF organization. For club registration form, click here.
2023 AAKF National Championships
June 21-24 Washington, DC
The 2023 AAKF National Championships will be held in Washington, DC June 21-24, 2023. Whether you are a black belt or kyu level, you will be able to compete in either the adult or youth division. You must be an AAKF member to compete. Senior black belts wanting to judge at the National Championships must be an AAKF qualified judge. AAKF registration will be due May 30, 2023 with more details to follow. Click here for more details on the AAKF National Championships.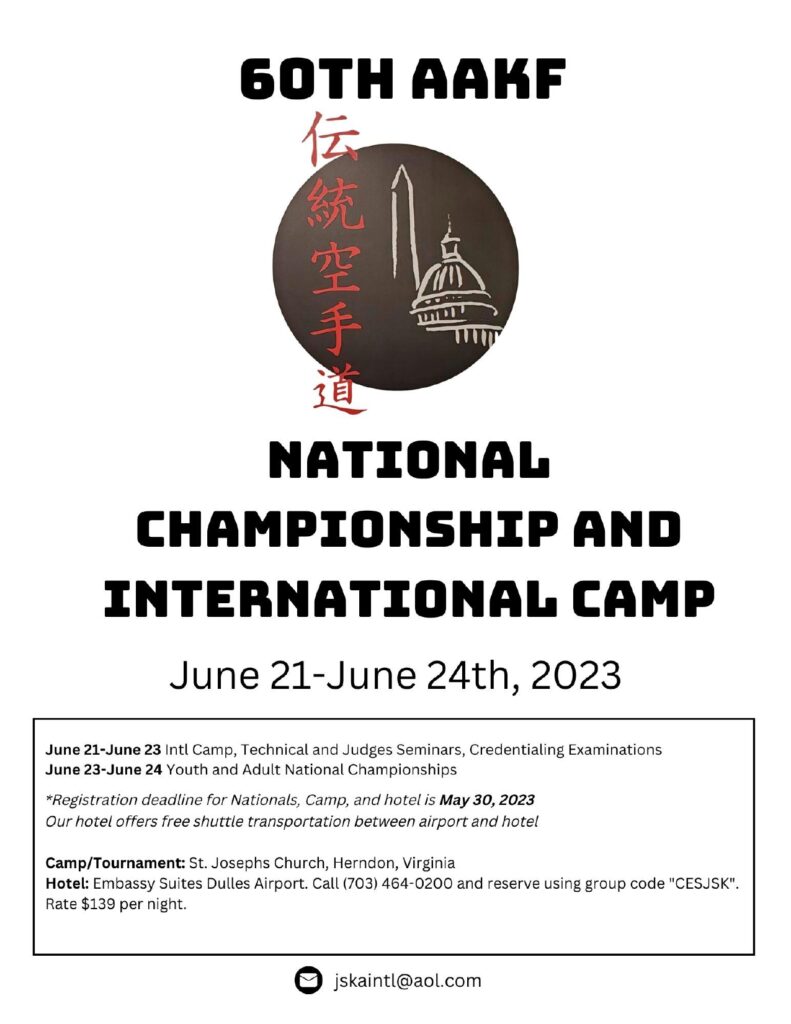 Upcoming Calendar of Events and Registration
NCR upcoming events

Shiai – SKM dojo – March 25 at SKM noon-3pm – Click here for more details.

AAKF/WTKF upcoming events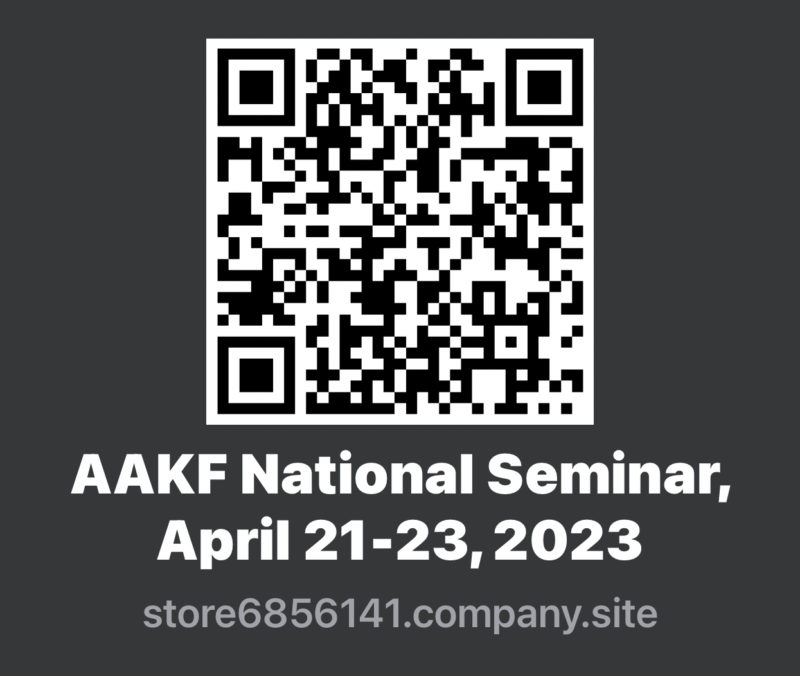 Click here to see past event videos and click here for past event photos from the NCR video and photo Library. Click here for additional photos from the U of Mn club photo library.
Dan Examination Schedule
NCR and AAKF dan exam schedule

NCR dan exam (Shodan-Nidan exams only) Friday July 21, 2023 6:00pm St. Paul dojo
NCR dan exam (Shodan-Nidan exams only) fall- more details to follow
AAKF April 21-23 2023 Spring seminar – dan exam (all ranks) and certification exam

AAKF June 21-24 2023 National Championships – dan exam (all ranks) and certification exam

Dan examination testing requirements shodan-sandan – click here
Dan rank registration required when you pass your dan exam – click here
Traditional Karate North Central Region Subscription
Art Wong – Traditional Karate North Central Region Director, Godan