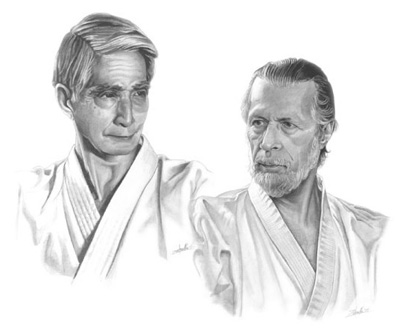 Traditional Karate North Central Region Newsletter
Kata Seminar – January 29, 2022 at SKM Mpls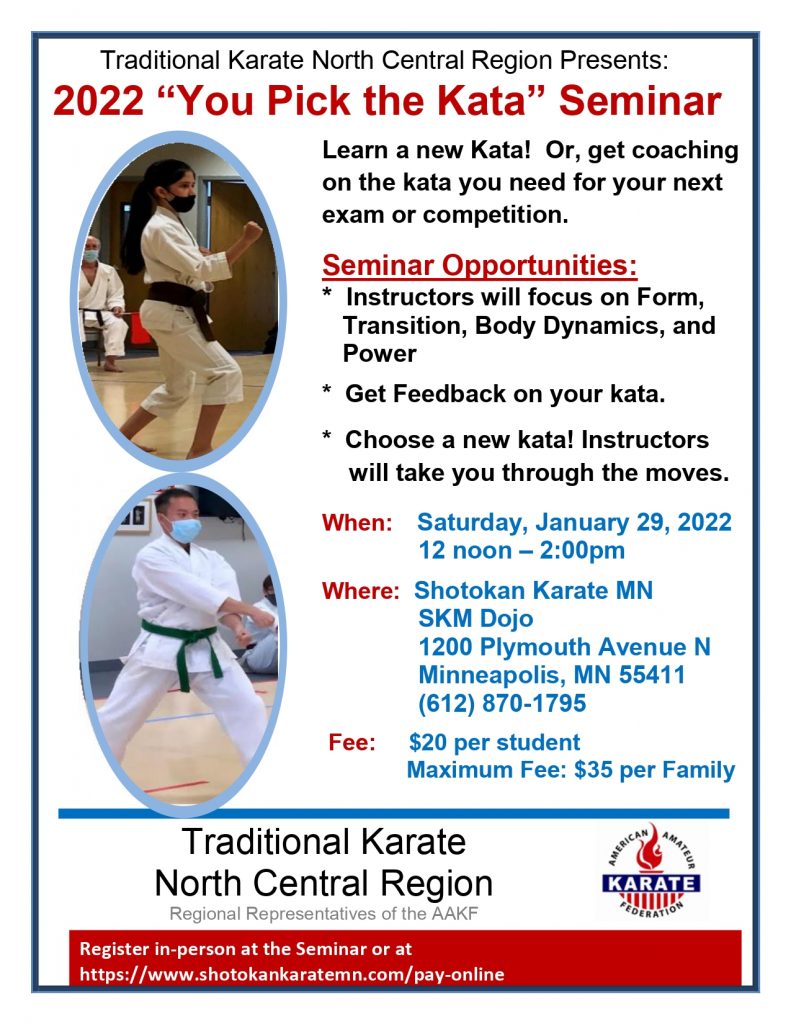 Come join us at the 2022 NCR kata seminar at the SKM dojo in Mpls. Get feedback on your kata to help with your next test and enjoy the first seminar of the New Year with your fellow karatekas.
Annual AAKF Membership Renewal – March 1, 2022
Your individual AAKF membership expires on March 1, 2022. If you renew your current membership before March 1, the cost is only $25. After March 1,  your AAKF individual membership renewal is $35. For club renewal, the cost is $170.00. Check this out ->  Benefits of an AAKF membership.
Click here and fill out the AAKF registration form. Write a check following the instructions from your club's sensei. Deliver your payment/form to your club's sensei – he/she will then mail the documents to the AAKF organization.
Upcoming Calendar of Events and Registration
Depending on COVID-19 Developments
NCR upcoming events

2022 – Kata Seminar January 29, 2022. SKM dojo in Mpls. Click here for more details.

AAKF/WTKF upcoming events
Dan Examination Testing Dates
The following are tentative dan examination dates/locations. Check with your club's sensei for eligibility as well as dates/times that may change at the last minute.
NCR  Dan exam – 2022 – mid-July. More details to follow on exact date and location.
AAKF Seminar – 2022 April 22-24. More details to follow.
AAKF Nationals – 2022 June 21-25, Dallas, TX. More details to follow.
If you are considering a dan rank test in the near future, you should be preparing for your exam as soon as possible and getting feedback from your club's sensei and sempais. It takes at least 6+ months of constant training both mentally and physically to prepare for a dan exam. For yondan and higher tests, it will take longer to prepare since you must write a thesis, present your paper, and do a kata with bunkai explanation.
Read the following documents for specific dan test requirements and eligibility:
Dan Rank Registration With AAKF and WTKF Organizations
Once you passed your dan examination, you must register your dan rank with both the AAKF and WTKF organizations. Cost is $150.00 ($50-AAKF/$100-WTKF). Make check payable to AAKF.
Complete both forms: AAKF Dan reg form. WTKF-APPLICATION-FORM.
Mail your check and forms to: Midwest Karate Association St. Paul, 762 E. 7th St., St. Paul, MN 55106.
Traditional Karate North Central Region Subscription
Subscription: To subscribe to the NCR Newsletter send an email to: subscribe@ncr-aakf.org
Include your name and email address with a subject line: "Request: NCR newsletter subscription" .
Art Wong – Traditional Karate North Central Region Director, Godan