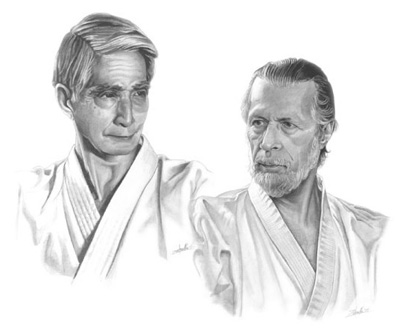 Traditional Karate North Central Region Newsletter
Reminder
UofM Fall 2021 Traditional Karate-do Tournament
Saturday November 6, 2021 11:30am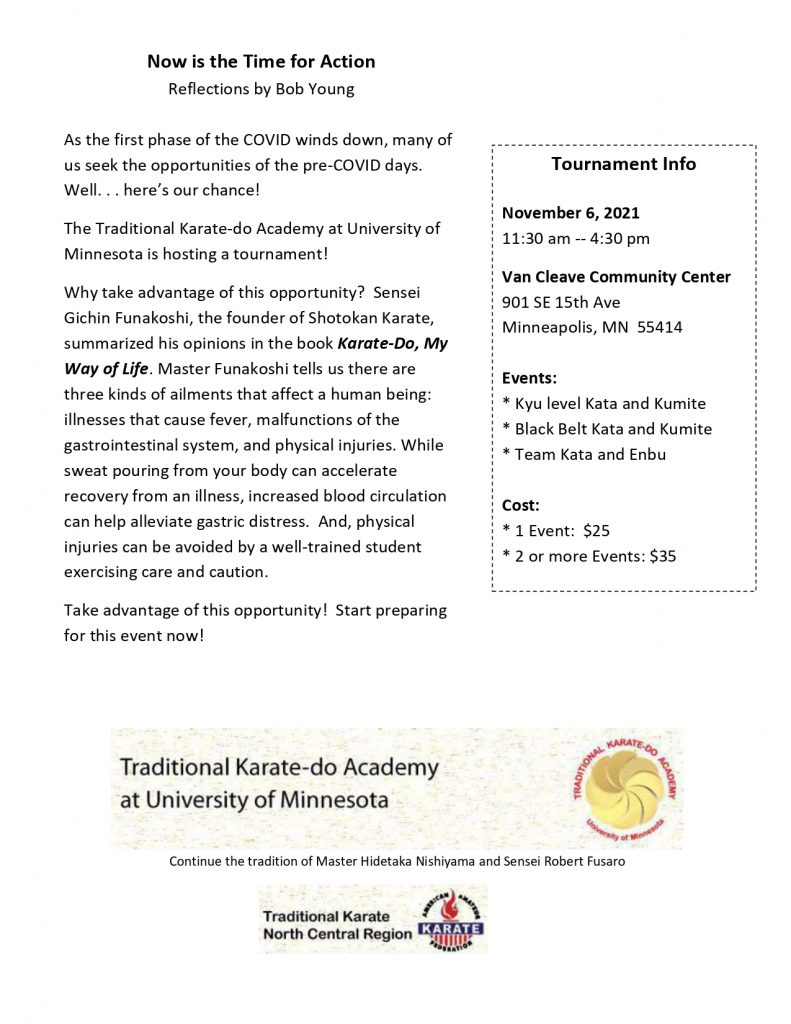 Highlights from the 2021 Fall Madison Tournament
The Madison Japanese Karate Club, which is part of the UW-Madison Recreational Sports program, recently held their 38th Annual Tournament on October 23, 2021. The competitors and judges had a good time at the event. The students received great feedback from the judges to help improve their karate. Sensei Vassil Peytchev and the club officers did a great job organizing the event. Click here to see photos and videos from the tournament.

Final AAKF Summer Instructor Program
November 13, 2021
The final Zoom AAKF Technical Committee instructor course session is scheduled for November 13, 2021 11:00am to 1:00pm Central Time. The program is only open to instructors and assistant instructors in your club. The teaching topic for this session will be How to Correct Students Part 2: Kata and Kumite.
The following is an email excerpt from Sensei Alex Tong, President of AAKF:
…The Technical Committee will host an online instructor course open to chief instructors and assistant instructors of member-clubs. The sessions are intended to be interactive in nature. We look forward to inputs from participating member instructors. …2-hour Zoom sessions will be held on November 13 at no costs to participants.
A unified teaching framework on kata, kumite, and kihon will be formulated from these sessions, and made available to all participants. There will also be a review of Japanese terminologies that are used in international championships. These specified foundation concepts will stand as guidelines for good karate-do practice, also serving as reference information for candidates for Coach's and/or Examiner certifications. As usual, teaching instructors are free to add their personal insights when holding class…
If you are an instructor at your club and interested in attending, please contact Art Wong immediately so we can get you registered.
The St. Paul dojo will be projecting the seminar on a large screen. All NCR instructors are welcome to attend.
Minnesota's Give to the Max
Interested in participating in Minnesota's Give to the Max?
Check this out: http://givemn.org/ Then Four Easy Steps!
Traditional Karate North Central Region: Our dojos encourage youth and adults to excel.
They are encouraged to excel in discipline, focus, healthy exercise, and in competition. Please help sponsor our competitors! Help send our excellent athletes to tournaments, where a financial situation should not hold an excellent athlete back for lack of equipment or an entry fee. Your donation can help send a very hardworking kid to tournament, and make a big difference in his or her life.
Thank you for helping!
Upcoming Calendar of Events and Registration
Depending on COVID-19 Developments
NCR upcoming events

2022 – tbd – shias and seminars

AAKF/WTKF upcoming events
Dan Examination Testing Dates
The following are tentative dan examination dates/locations. Check with your club's sensei for eligibility as well as dates/times that may change at the last minute.
NCR  Dan exam – 2022 – tbd
AAKF Seminar – 2022 April 22-24. More details to follow.
AAKF Nationals – 2022 June 21-25, Dallas, TX. More details to follow.
If you are considering a dan rank test in the near future, you should be preparing for your exam as soon as possible and getting feedback from your club's sensei and sempais. It takes at least 6+ months of constant training both mentally and physically to prepare for a dan exam. For yondan and higher tests, it will take longer to prepare since you must write a thesis, present your paper, and do a kata with bunkai explanation.
Read the following documents for specific dan test requirements and eligibility:
Traditional Karate North Central Region Subscription
Subscription: To subscribe to the NCR Newsletter send an email to: subscribe@ncr-aakf.org
Include your name and email address with a subject line: "Request: NCR newsletter subscription" .
Art Wong – Traditional Karate North Central Region Director, Godan