Traditional Karate North Central Region Newsletter
2023 AAKF Spring Seminar – Highlights.
The AAKF organization held their 2023 Spring Seminar at the Van Cleve Recreation Center in Minneapolis, MN from April 21-23, 2023. Over 60 participants attended this fantastic seminar conducted by Tabassi Sensei (Mid-Atlantic region) and Cheah Sensei (Western region). The students learned new concepts and training drills and how to apply kata basics with their kumite and self-defense situations. The seminar brought together a community interested in learning and elevating the art of Shotokan karate. The student's new found knowledge and drills they performed helped raise their karate skills. The local club instructors learned new information and training drills and developed a deeper understanding of karate.
The next seminar will be an International Training Camp as part of the 2023 AAKF Nationals (June 21-24) in Herndon, Virginia.
Click the following photo and video links from the seminar (more photos/videos are still coming in):
Thank you to Mark Abeln, Mike Ching, Trung Le for the photos and videos.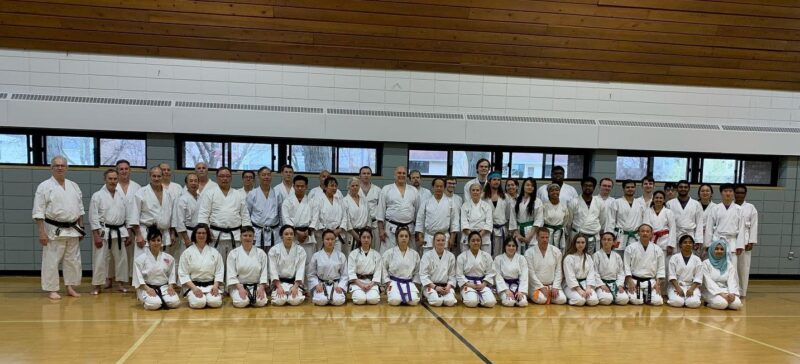 Successful Dan Examination April 22, 2023
On April 22, 2023, the AAKF Technical board members (Tabassi Sensei and Cheah Sensei) conducted a dan examinations during the 2023 AAKF Spring seminar at the Van Cleve Rec Center in Mpls.  The people testing all did very well during their dan examination. The Traditional Karate North Central Region now has two new elevated black belts:  Al Kotula SKM dojo – Rokudan (6th dan) and Trung Le UofMn club –  Godan (5th dan), and a new black belt Jason Briscoe – UofMn club – Shodan (1st dan).  Also, a Madison club student (Alex Ulate ) tested for 2nd kyu and passed as well.
Congratulations to everyone on a very successful test.
2023 AAKF National Championships
June 21-24 Washington, DC
The 2023 AAKF National Championships will be held in Washington, DC June 21-24, 2023. Whether you are a black belt or kyu level, you will be able to compete in either the adult or youth division. You must be an AAKF member to compete. Senior black belts wanting to judge at the National Championships must be an AAKF qualified judge. AAKF registration will be due May 30, 2023 with more details to follow.
Click here for detail information packet on travel, lodging, costs, schedule, youth rules
Click here for detail athletes registration form and seminar registration form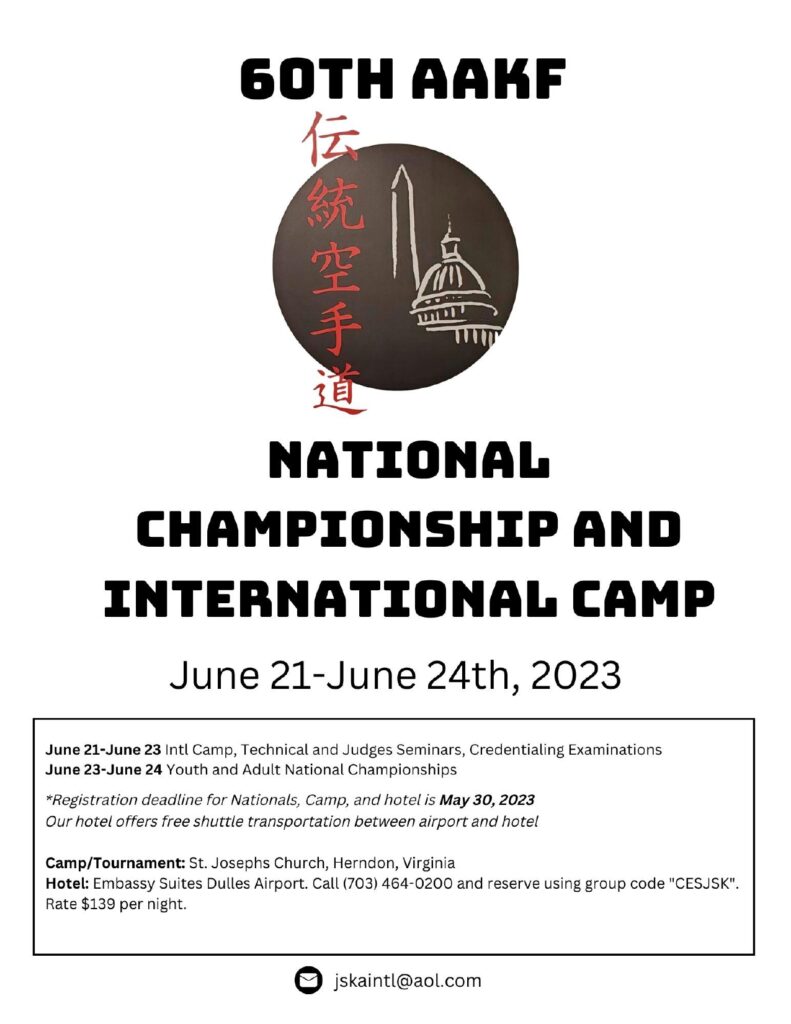 Upcoming Calendar of Events and Registration
NCR upcoming events

2023 October 14 noon – NCR Fall Shiai – kata and kumite. SKM dojo. Click here for more details.

2023 November 4 – UofW Madision Karate tournament 11am-5pm
2023 November 18 – Traditional Karate-Do Academy at UMN shia – Kata and Kumite – More details to follow.
2024 January 27 – Kumite Seminar noon-2pm. SKM dojo
2024 March 23 – (tentative). NCR Shiai. Noon. SKM dojo. More details to follow
2024 May 18 noon-2pm Preparation for 2024 AAKF National Champioships – NCR judging seminar and competitor feedback. St. Paul dojo. More details to follow

AAKF upcoming events:

2024 April 12-14 (tentative) – AAKF Spring seminar – Madison, WI – More details to follow.
2024 June 19-22 – (tentative). AAKF National Championships – Bloomington, MN – Hosted by Traditional Karate North Central Region. More details to follow.

WTKF Events

WTKF calendar  – Click here for more upcoming WTKF events.
Click here to see past event videos and click here for past event photos from the NCR video and photo Library. Click here for additional photos from the U of Mn club photo library.
Dan Examination Schedule
NCR and AAKF dan exam schedule
Dan examination testing requirements shodan-sandan – click here
Dan rank registration required when you pass your dan exam – click here
Traditional Karate North Central Region Subscription
Art Wong – Traditional Karate North Central Region Director, Godan